When it comes to video conferencing in the enterprise, an array of video-enabled solutions and platforms already exist. New versions are also becoming available – whether we like it or not we live in a truly multi-vendor environment.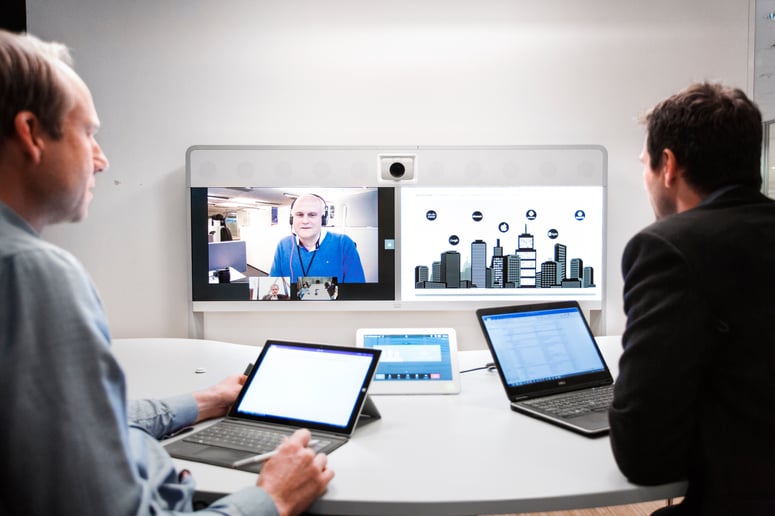 Here are some of the most common video conferencing interoperability challenges we speak to clients about on a regular basis…
Standards-based video conferencing to Skype for Business
This is possibly the biggest UC and communications challenge for the enterprise. You might have already invested in videoconferencing infrastructure and video endpoints. And now you have Skype for Business rolled out. This creates two different meeting cultures. Skype for Business brings so much: instant messaging, presence and audio calls. But it also adds video, and now your organisation has two platforms that don't work well together.
Sharing content across platforms
Do users struggle to share content from your video endpoint to appear in Skype for Business? Or, commonly, from the other side, screens that are shared from Skype users don't appear on the video endpoint.
Standards-based video conferencing to Microsoft Surface Hub
This is not as common but is starting to crop up more and more as Microsoft Surface Hub continues to be deployed within the enterprise – and deservedly so as it is an incredible team collaboration tool! Many of our new Surface Hub customers come to us and ask if we can help them to enable standards-based video conferencing users to join Skype meetings on Surface Hub. The answer is, of course, yes we can.
The three leading technologies – legacy standards-based video conferencing, Microsoft Skype for Business, and WebRTC (communications via a web browser), simply don't work together easily. To achieve true interoperability between these technologies, you need to have a scalable meeting platform that can seamlessly transcode and pass information, whether it is video or content, between all.
Pexip does that. Here at Kinly we aim to help companies consolidate their UC toolbox and avoid the common issues mentioned above. We have just finished an integration/consolidation project with an organisation which had the following segregated silos within their global estate:
- Cisco VC Endpoints (VCS registered)
- Polycom VC Endpoints (DMA registered)
- Cisco VC Immersive (TX9000, CUCM)
- HP VC Halo Immersive
-Lync On-Prem 2010 & 2013
- InterCall for cloud voice bridging
- WebEx
- Telephony in different regions (Cisco, Avaya, Mitel)
This is an extreme case, we know, but it is a typical example of a company on an aggressive acquisition trail, buying out others, thus inheriting additional UC solutions and platforms. In short Cisco and Skype for Business were chosen as the key UC tools for voice, video and web and we used Pexip to act as a voice and video gateway to provide the interoperability in this truly multi-vendor environment.