On September 7th, our Global Marketing Director passed away, and you will not hear from her again on this blog. And yet, you might just do that, because her legacy lives on!
The title of this post is borrowed from Jennifer's family, and the beautiful ceremony held in Glasgow last Thursday, September 20th. We dare say Kinly was Jennifer's second family and had that wholeheartedly confirmed by those even closer to her - work was truly important to Jennifer.
To us, Jennifer was a person who did so much of the work needed for others in Kinly to be able to shine. That said, she led a great example in work/life balance. She also showed us collaboration technology can be of greater importance than we may think of in our busy everyday life. Being able to work from home was an important part of enabling Jennifer to do what she loved, also on days her treatment made her less keen on commuting to the office.
To the marketing team Jennifer was our cornerstone, with her experience, work ethics, upmost professionalism and ability to both work as part of, as well as challenge us as a team.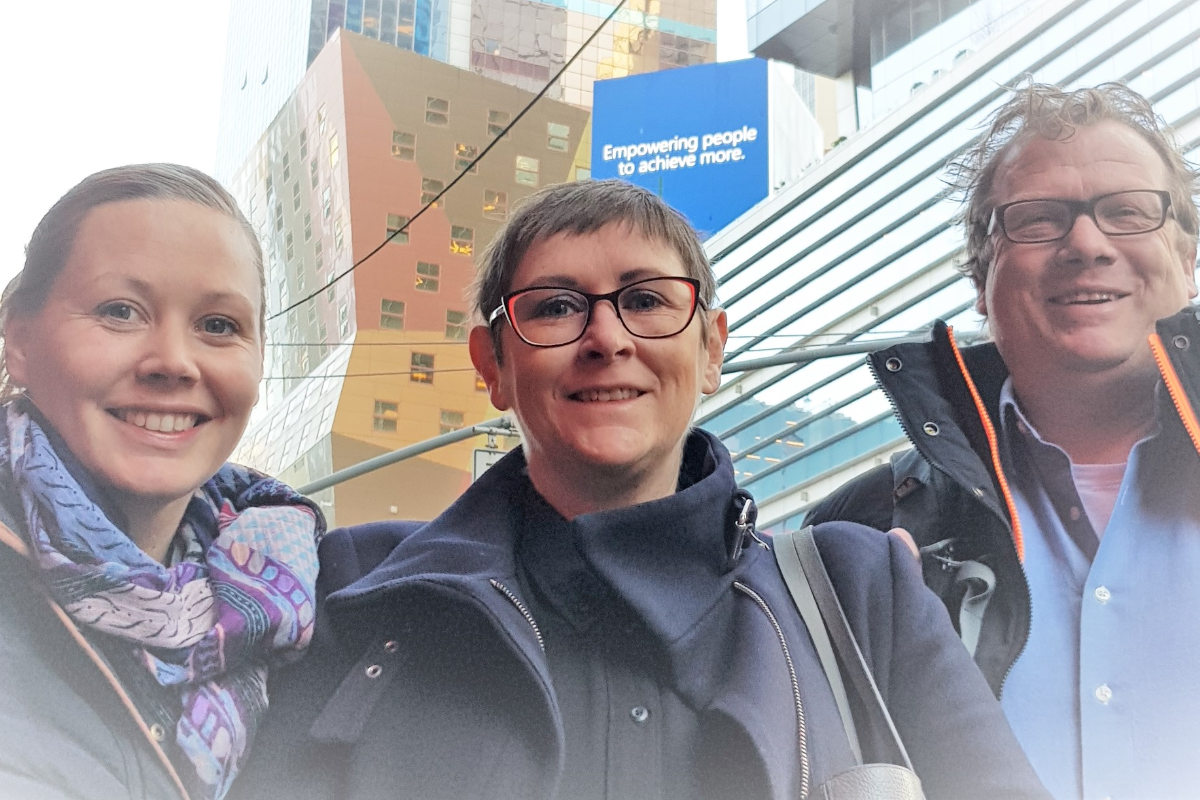 Jennifer Turnbull (center) with Jeaneth Mørum and Robert Blaas. Note the text flashing past the LED sign above Jen. :-
Above, Jennifer is captured in New York last fall, just hours before the team wrote the word "Kinly" on a yellow sticky note for the first time. "Kin" stems from the Viking age, and was a word not only for family, but also included those you could trust. Jen was a true Kinly person.
Besides being a great team-player, we will tell you she was a generous, thoughtful, caring and fun person to be around, the longer in the evening, the better. We will miss her lovely laugh and giggles in everything we do. Challenges in work and life can often take its toll on a team, but in our case it did nothing but bring us closer, we have lost not only a good colleague but a dear friend.
Kinly will on October 19th take part in wear it pink for Breast Cancer Now, with contributions also to Macmillian Cancer Support, a charity close to Jennifer and her family.
Let us do what Jen would want; smile, open our eyes, love and go on.