Knowledge workers spend nearly forty percent of their working day in meetings. More and more of these meetings are now on video and yet on average these meetings start ten minutes later than planned. This is often caused by all the different ways knowledge workers meet today, the market is full of different services and ways to meet within and across enterprises and this introduces technical complexity when joining meetings. This puts enormous pressure on the IT department who are often called and asked to drop what they are doing and help get everyone on the call.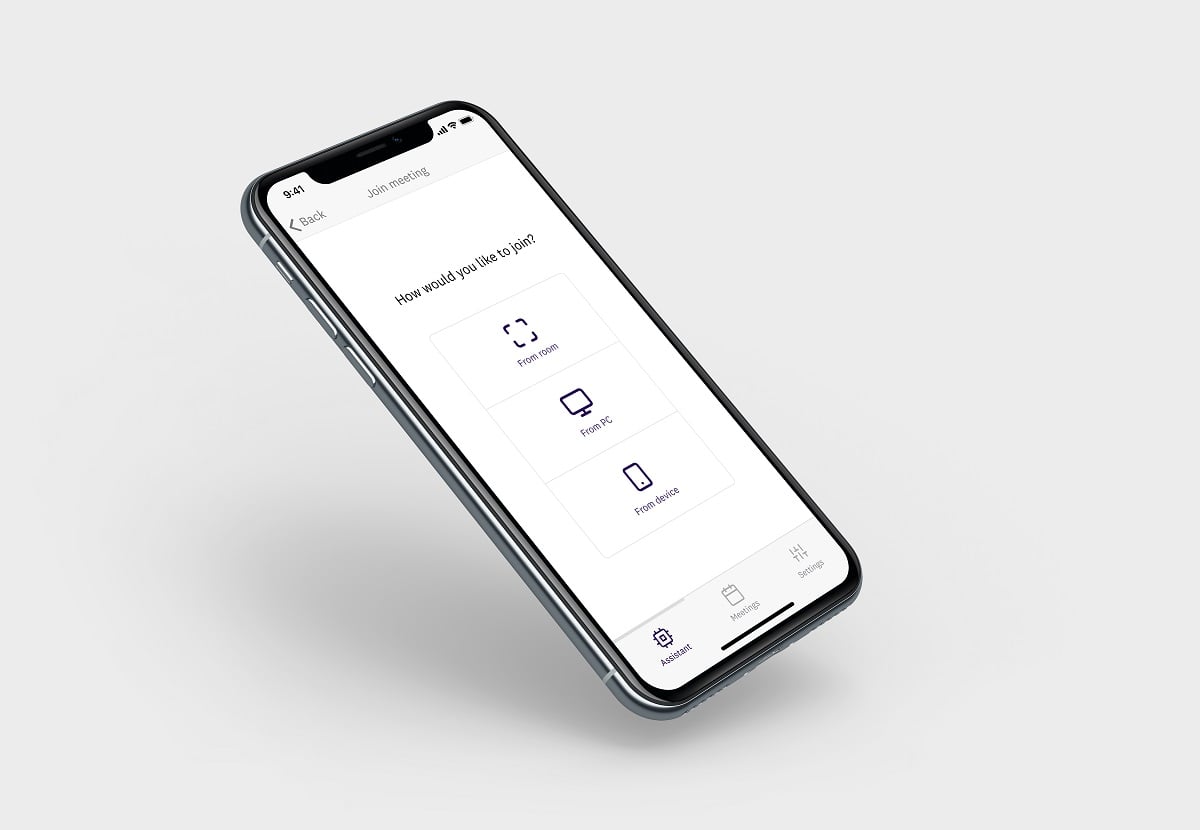 We all know that videoconferencing can increase productivity within an organization and improve workflows. The focus should always be on the actual collaboration and not the technology - everyone must be able to work together across different departments, locations and organisations.
This is possible with the Kinly Meeting Assistant App. This app was designed to ensure that everyone can participate in any video meeting in a seamless and easy way. The app helps users to select the best possible method for them to join a video meeting whether from a video room, desktop endpoint, a laptop or a mobile device. You can even call out to a participant who is struggling to join a meeting using the Meeting Assistant App.
In addition, anyone - regardless of the technology platform used - can attend remote meetings with this app and host meetings. The complexity of collaboration, which is often caused by the fact that organizations around the world use different platforms for video conferencing, is removed. Users do not have to worry about whether a company has Microsoft Skype for Business, Microsoft Teams, Cisco Webex Teams, Google Hangouts Meet, Zoom or BlueJeans, they can all join the meeting.
The app also gives you more control during your meetings. With the press of a button, a disruptive participant causing background noise can be put on mute. You also can see at anytime who is participating in the meeting and adapt the video layout to suit the purpose and focus of the meeting. You can also start ad hoc meetings directly from the app.
The Meeting Assistant app can only be used in combination with a personal Kinly Cloud Room. Any user with a Cloud Room can simply download and use the app in the app store. The app uses the Personal Cloud Room to start your own meetings or join others, on any other conferencing platfrom in the market. This address is linked to the app. The app needs access to the calendar on your mobile, both native calender app and outlook is supported on both iOS and Android. The app will then discover video meetings and prepare for how to join any meetings, the app will send a notifcation if a meeting is about to start.
The app makes any meeting join process intuive and simple for everyone, if you are familiar with your iOS or Android smart phone, the app will ensure that meetings will be on time. With the app, we are always aiming to put user experience front and center, so that companies can focus on productivity, growth and innovation. Therefore, empowering employees to achieve improved workflows by using the various collaboration technologies available to them in a better way.
We know that your company brand is important to you, and to ensure this comes through your decisions, we enable customers to put their footprint and brand within the app, we are proud to deliver the most intuitive meeting service in the market and branded with your company logo and colours. We enable it to ensure your users feel like it is their app and an app that represents productive meetings.
Experience the power of the Kinly Meeting Assistant App with a live demonstration during Integrated Systems Europe 2019, taking place at the RAI Amsterdam, 5-8 February. Learn more here: https://www.kinly.com/ise-2019-kinly