Kinly – a leading AV systems integrator and remote collaboration service provider – is excited to announce three further additions to its senior leadership and management team, with the appointments of highly experienced AV professionals, Barbara Armenti, Keith Miller, and David Turiello.
Part of an on-going team building and strengthening initiative in the US – which includes recent senior appointments of Vel Johnson as MD and Chico Dominguez as SVP Technical Operations – the new trio bring more than 35-years of top-level AV/IT knowledge and experience to the team and will play a key role in the company's local and global growth ambitions.
Based in the company's New Jersey office, Armenti – now in her seventh year at Kinly – has been promoted to the position of Strategic Partner Manager, with Keith Miller and David Turiello, joining the company as Supply Chain Director, and Manager of Support Services, respectively.
Vel Johnson, Managing Director, Kinly US comments: "With an entirely agnostic approach to technology and a commitment to providing our clients with fully tailored solutions built around their exact needs, it's essential we bring in the right people, with the right skillset and that share our same values as a business to ensure a first-class customer experience. These new appointments absolutely tick those boxes."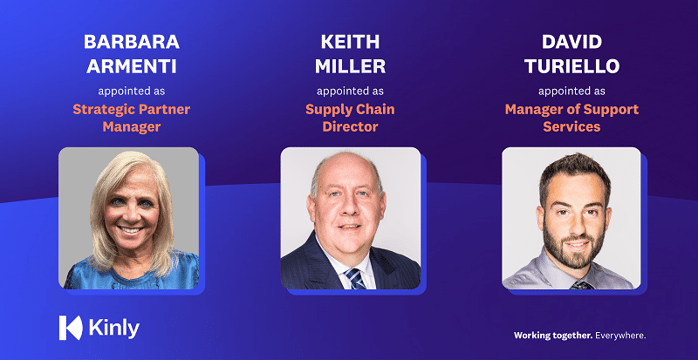 Land of opportunities
Reporting to Vel Johnson, Armenti, who has relinquished her position as Sales Operations Coordinator after almost five years, will be responsible for nurturing, strengthening and growing Kinly's strategic partnerships with the world's leading AV/IT providers. Aligned with Kinly's global strategy, this will help to bring even greater levels of support, choice, services and consistency – for local and global clients.
Joining her in New Jersey, Miller has enjoyed a career spanning more than 30-years in technology – the last 15 dedicated exclusively to AV – and brings extensive high-level experience to the role. Also reporting to Vel Johnson, and with a team consisting of seven spread over logistics and procurement, he is tasked with accelerating the development of Kinly's operational standards, while maximizing business productivity and efficiency.
Mirroring Miller's achievements, new Jersey based Turiello brings invaluable experience and knowledge to Kinly, with a distinguished career providing high level professional managed services for some of the US markets companies and organisations. Reporting to Chico Dominguez, Turiello leads a 12-strong team, covering a wide remit of customer support services, including remote and onsite support, dispatch, and service delivery management, among others.
Vel Johnson, Managing Director, Kinly US added: "Like most industries, AV has been through incredible change in the past few years, forcing companies to evolve and to adapt to new challenges and needs. It's essential that we as a business are able to support businesses in their digital transformations and to do that, we need the right relationships and the right team. These strategic appointments bring new levels of strength to Kinly and will help to ensure we continue to deliver a service to our customers that surpasses expectations."