Kinly Promotes Jeaneth Mørum to Global Marketing Director
Kinly – a leading AV systems integrator and remote collaboration service provider – is pleased to announce the promotion of Jeaneth Mørum, as its new Global Marketing Director.
Having joined Kinly in 2012 – then Viju – Jeaneth has been with the company through the ages, playing a crucial role in transition periods including its 2017 rebranding.
Based in Kinly's Olso office, Jeaneth began her career at Kinly in administration before quickly being promoted to a Marketing Executive role. Most recently, Jeaneth has spearheaded Kinly's Norwegian marketing team and managed global marketing operations.
Kinly's core values are underpinned by a focus on attracting, developing and rewarding the best people. As the latest in a string of internal promotions, Jeaneth's appointment is a further demonstration of Kinly's commitment to nurturing and elevating talent from within.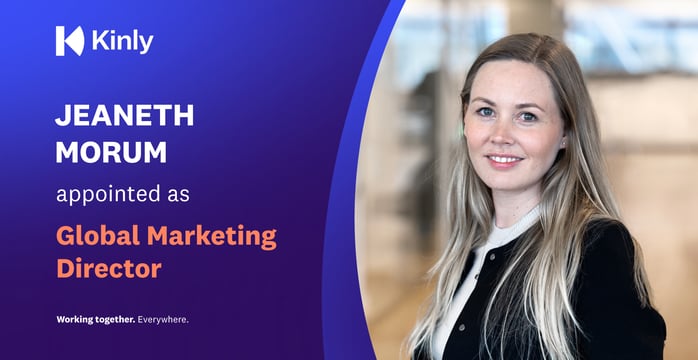 Speaking on her appointment, Jeaneth said: "I am excited to be taking on this role. Since joining Kinly nearly a decade ago, I have truly enjoyed being part of what can only be described as a great and challenging journey. I really appreciate the trust and recognition given to me with and feel lucky to have had the opportunity to develop within Kinly through great mentoring from senior management."
Tom Martin, CEO, Kinly, commented: "I am delighted that Jeaneth will be taking over the responsibility for Kinly's global marketing. Jeaneth has always been a key member of our team. I am confident Jeaneth is the right person to lead our global marketing efforts as we look to capitalise on our market position through expansion into new regions, vendor relations and internal growth."