Creating a flexible, hybrid learning environment
After the pandemic, the acceleration of digital technology has shown that classrooms and lecture theatres need no longer be bound by physical walls, and can become a much more flexible environment. The education sector can benefit from the outcomes of using the right technology, to further the relationship between teacher and student even in a digital space.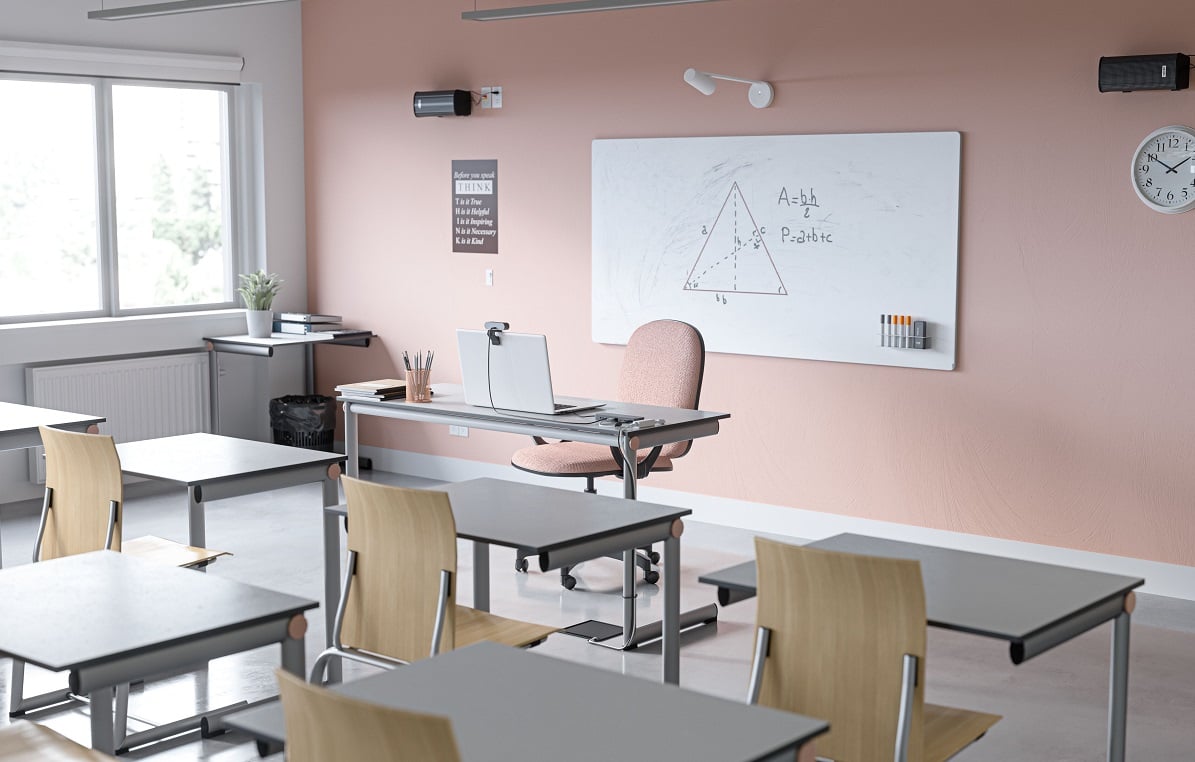 The digitisation of institutions and the use of technology in the curricula can level the playing field, resulting in an inclusive, engaging environment for all to learn equally.
Achieve equal learning opportunities
The right technology in the education sector can create the opportunity for different learning structures, to meet the needs of the teachers and students alike. This can include in-person learning and remote learning for a hybrid experience, as well as individual and group learning where needed.
Digital learning transformation across the education sector can begin to produce equal opportunities for students whether they are in the traditional classroom or elsewhere. However, finding the right tools to achieve this can be challenging, with many different platforms and devices now becoming readily available.
Keep students engaged
The major challenge in the world of education is keeping students engaged and being able to consistently capture their attention. Interactive learning through technology could hold the key to this. While the pandemic brought a temporary solution to a problem, it's clear that it has opened up a new dimension to learning and something that can become the norm.
Allowing teachers, lecturers, students and even parents to connect through a hybrid environment can transform the landscape, giving access to the necessary classes and support wherever they are.
Today's education technology is beginning to include laptops, tablets, video cameras and more, but there is something else that can bridge the gap further. At Kinly, we aim to help organisations access the right technology and ease the demand on IT departments to stay ahead of the curve.
Get everyone on board
Logitech Scribe provides the ability to share whiteboards into video meetings in real time, creating a level playing field no matter where the student or teacher is located. The AI-powered whiteboard camera can ensure even remote participants have the best seat in the house.

Scribe is available for use with existing systems like Microsoft Teams Rooms or Zoom Rooms, or alternatively you can connect it to your laptop as a USB device for ultimate flexibility. Making it easy for students to follow the flow and focus on the lesson content with ease, Logitech Scribe offers advanced features such as presenter removal, creating a transparent effect to see 'through' the teacher for an unobstructed view of the board. The camera will also enhance colour and contrast for even more clarity.
With Kinly, we can help can create the ultimate hybrid education environment to continue accommodating the digitisation of the sector to support the future of learning.