Going Places: David Puleston Named Rising Star at 2023 AV Awards
Kinly, a global provider of AV integration and collaboration services and support, is delighted to announce that David Puleston, Field Services Manager for London, has been named Rising Star of the Year at the 2023 AV Awards.
David joined Kinly in January 2019 as a Service Engineer after leaving the British Army. A former member of The Royal Signals, he left the Forces and faced the challenge of forging a new career path. Despite having no previous AV experience, David enrolled in the Kinly Armed Forces Resettlement Programme and quickly began to thrive.
As a trainee, David demonstrated an exceptional level of commitment and dedication. His hard work paid off as he quickly completed the programme and showcased his potential to achieve success in the AV industry. Within months, he was responsible for some of the most complex and technical spaces in London.
In his short time in the AV industry, David has achieved AVIXA CTS accreditation. He also has multiple manufacturing qualifications combined with a great understanding of AVOIP network needs and problems.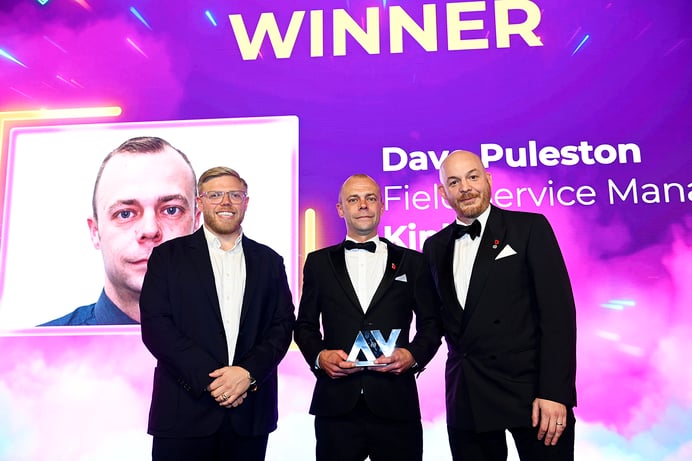 The AV Awards are independently judged by a panel of senior representatives from end-user organisations, consultants and key industry players. Fighting off strong competition, David was recognised for his passion for AV and received the award on Friday, 3rd November at a prestigious gala dinner held at Battersea Evolution, London. The dinner represented a fantastic opportunity to get together with all the AV industry's leading companies and brightest talents.
Speaking on his recognition, David said:
"I am extremely pleased and proud to be named Rising Star of the Year. I would firstly like to say congratulations and well done to all the winners and finalists at the 2023 Awards, you are what makes our industry so special.
When I left the British Army, I couldn't have imagined finding a career that I am so passionate about. All this wouldn't be possible without the support of the amazing team I have around me. I can't wait to see what the future holds and am looking forward to many more years of success working alongside the Kinly team."
Taj Ghere, UK Region Managing Director, Kinly, said:
"David's professionalism, dedication and passion to succeed for his clients and colleagues have seen him rise to the ranks of Field Service Manager in only a few years, a remarkable achievement considering he had no prior AV experience. In February 2023, he was promoted into his new role and is now responsible for leading the largest and most technically adept pool of Field Service Engineers within Kinly. He is a true lynchpin of the field service team, sets the gold standard for his colleagues and is a very worth winner."
Justin Paveley, UK Engineering Director, Kinly, said:
"David's commitment to delivering service excellence, combined with an unmatched service approach, ensures his clients get the best quality service in the quickest time. This can-do attitude, coupled with his polite and friendly nature, enabled him to build an excellent rapport with clients and he is now one of the most sought-after engineers in Kinly.
David's inspiring journey from leaving the Army to becoming a rising star in the AV industry serves as a testament to his determination and resilience. He is a true example of how dedication and hard work can lead to success and he is certainly deserving of the AV Awards Rising Star recognition."