Leading global provider of visual communications and collaborations services, onboards additional ex-military trainee to its Veterans Programme.
Kinly is pleased to welcome Evan Beard, the latest ex-military trainee, to its Veterans Programme. Evan will be responsible for assisting engineers in their day-to-day activities to learn and develop new skills with the long-term aim of becoming CTS qualified.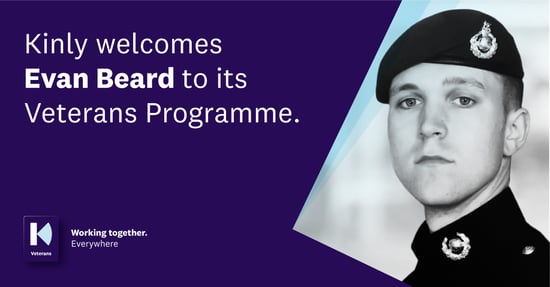 Evan served in the Royal Marines Commando for four years, where he spent a year and a half as part of 43 Commando Fleet Protection Group, a group of elite warriors who protect the UK's strategic nuclear deterrent. He then went onto specialise as a Heavy Weapons (Anti Tanks) operator at 40 Commando in Taunton, learning how to combat a wide range of threats in challenging terrain.

Upon leaving the armed forces, Evan attended night college to train as a carpenter but quickly established that carpentry wasn't something he wanted to make a career of. Finding an advert on the CTP website, he was intrigued about what a career in AV would look like and reached out to Justin Paveley, Engineering Director at Kinly.

"After speaking to Justin, it felt like the perfect move for me. Kinly's Veterans Programme offers a seamless transition into a tailor-made career for veterans. I'd advise any ex-military service men looking for a new career to investigate the programme. I'm really excited to start my new journey at Kinly and can't wait to see what the future holds," said Evan Beard, Veteran Trainee, Kinly.
Justin Paveley, Engineering Director at Kinly comments: "We are thrilled to have Evan onboard to start his training with us. As a former Royal Marine he will bring several cross transferable skills that will allow him to flourish in our wonderful industry. Evan has already brought his commando mindset and motto into the work place '99.9% Need not apply'.''

Kinly is actively recruiting, any veterans who would like to find out more please get in touch with Justin at JPaveley@Kinly.com
About Kinly's Veterans Programme
The Kinly Veterans Programme is paid and non-rotational, it lasts up to 50 weeks. Training will be based in our Sunbury on Thames HQ as well as our client sites and will include training to qualify as a Certified Technology Specialist™ (CTS®). We're looking for candidates from the ARMY, NAVY or Air Force that have a trade in electronics, communications and Information Technology, even if you are infantry soldier or have no trade when you leave the armed Forces we will give you the right training to a rewarding career in the audio visual industry.