Kinly launches new solutions & services for video meetings
Never been easier - the new Meeting Assistant app for smartphones even enables participants to join and control high quality video meetings from the palm of their hand.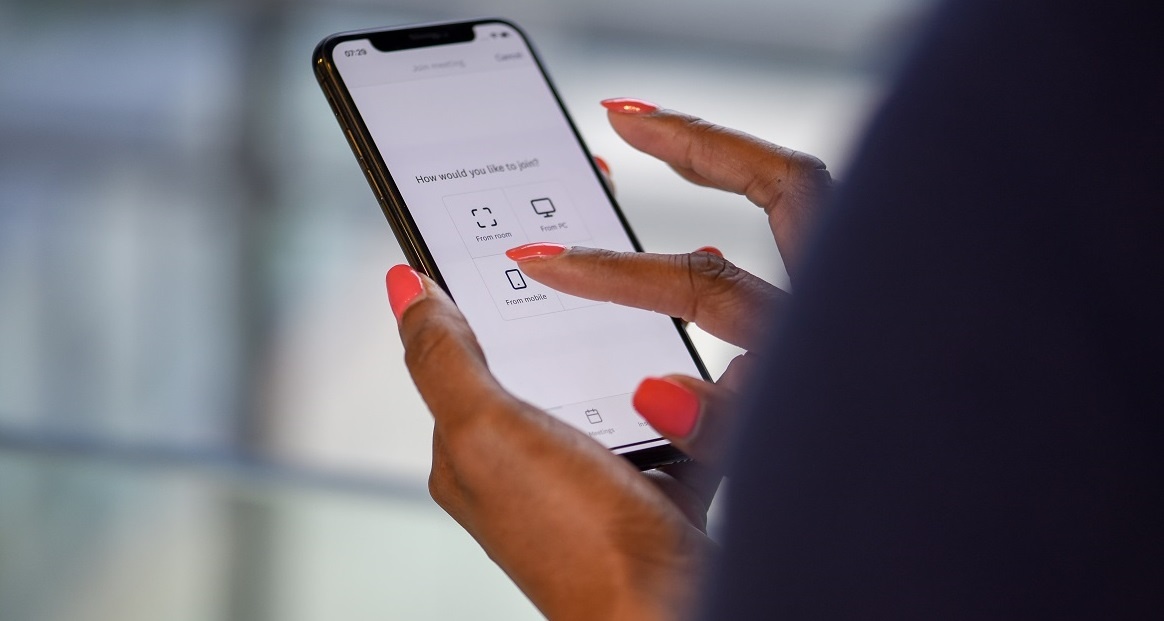 To help our clients run their meetings more efficient we launch a set of new services: the Kinly Meeting Assistant app, Room Configurator and Smart Monitoring services. Part of the launch is also a set of packaged Customer Success services, to help clients across the globe get full value from their investments.
Whether in a meeting room, at the desk with a laptop or on travel with a mobile device, Kinly's new portfolio of Solutions and Services will help meetings run secure and seamlessly.
Meeting Assistant app
The Kinly Meeting Assistant app provides full meeting control at the user's fingertips and is also compatible with Kinly Personal Cloud Rooms. The app is available for iOS and Android devices, integrates with the user's calendar, and will even tell the user when it's time to be part of a video meeting. If other users are struggling to join a meeting, they can easily be dialed in via the Kinly Meeting Assistant from a smartphone.
Room Configurator
An important part of the launch is the introduction of the Room Configurator, which structures design and configuration of standardized smart meeting rooms. The design team can then easily select the technology, number of screens, presentation options and other service attachments, such as Smart Monitoring. Adding the Smart Monitoring service to a Kinly Room makes it a Smart Room, which is easier to manage and support, provide better experiences for their users, and help customers save cost and drive business value.
Smart Monitoring
Kinly offer tools and services to help customers that heavily depend on the performance of their collaboration technology and meeting rooms. The launch of Smart Monitoring is essential to this offering, it enables proactive remote management of connections and equipment. It also delivers statistics on use, and analytics presented in useful dashboards, highlighting how rooms are used and what the performance of end points is. With this data Kinly can provide predictive maintenance and guidance on how to improve room usage.
"At Kinly we look at three important pillars: People, Process and Technology. We emphasize the former two because of our user-centric approach. How are users working together? What are their needs? And how can we optimize the workflow based on the data that is available? Only by considering these factors are we able to provide a better collaboration experience using technology", says Magnus Ekerot, CEO at Kinly.
Customer Success
The Customer Success service has already been pre-launched and proven to be highly valued among Kinly customers across the world. In-room and over video training, together with promotion videos customized for each client, and e-learning portals makes all the difference in usage and improvement of how users work with collaboration technology. Survey tools for user feedback, as well as usage and adoption analytics based on Smart Monitoring is also part of the offering.
New and existing services bundled
To provide a clear and fully integrated portfolio, Kinly has developed a new integrated framework for its solutions and services. Focusing purely on the field of collaboration, the offerings are designed to help existing and future customers before they buy, during implementation, and in the often-forgotten phase of use, to extract value from collaboration technology.
The renewed Kinly portfolio of solutions and services as presented at launch:

Kinly Cloud, Kinly Rooms, Kinly Support, Kinly Manage, Kinly Improve.