The recent COVID-19 months have brought even more focus on workplace trends such as remote working and workplace flexibility. Digital technologies including video conferencing and collaboration tools have become a 'go-to' in facilitating business continuity amongst a remote workforce. With workplaces becoming more open to adopting different technologies, it's important that productivity is supported and challenges are solved along the way.

Today's modern workplace is creating a need for more products and services that enable hybrid meeting environments, especially when the vast majority of meetings in 2021 and beyond will almost certainly always have at least one remote particpant.

"By 2024, in-person meetings will drop from 60% of enterprise meetings to 25%, driven by remote work and changing workforce demographics" (Gartner)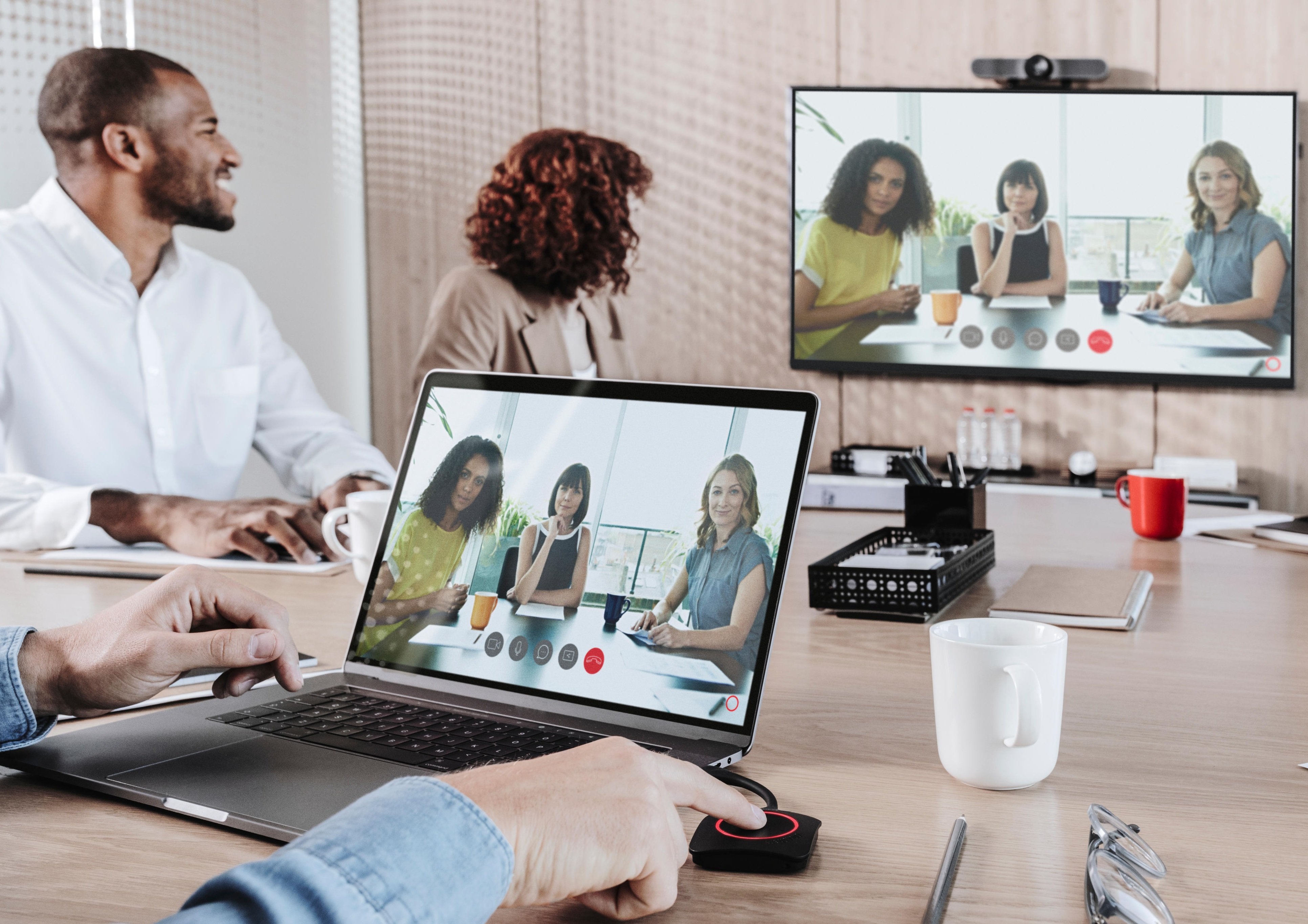 The rise of videoconferencing

Over the years the workplace has transformed itself with new technology and trends; BYOD was once a ground-breaking concept, which is now very much the norm. The same goes for the rise of videoconferencing, a tool that many businesses have adapted to - in a way like never before - as workforces become more remote.

The pandemic in particular has led a surge in the adoption of video conferencing tools, with workforces split up and relying on video communication to keep businesses running. Being able to bring teams together through the right solutions has been key but also being able to work together over video has been a critical step in the adoption curve.

Now, the next workplace technology acronym is here to encourage businesses to adopt systems that meet the users needs. Today's workforce wants to work with the technology and platforms of their choice; the tools which have enabled them to continue to work this year. Many workforces will avoid using equipment they aren't familiar with or find difficult to use, instead opting for conferencing solutions that are easy and intuitive. This has paved the way for BYOM; 'Bring Your Own Meeting', which has been championed by Barco.

What is BYOM?

BYOM is a concept that allows users to host and join video meetings and share content using a preferred platform in an existing meeting room or space from their own device. Embracing BYOM is made possible by Barco ClickShare Conference (CX), which allows for wireless conferencing from any device using an existing meeting room USB camera such as Logitech MeetUp for instance. You have the ability to easily connect to the conferencing platfrom (Microsoft Teams, Cisco Webex, Zoom, Google Meet + many more) and share content via your laptop, but importantly utilising the meeting room display and USB room camera for a richer experience.

Transform a virtual desktop meeting for one into a sharing experience for many with a simple set-up process, due to a system that is compatible with the laptop device you may be using for work. Barco ClickShare Conference can facilitate a BYOM experience, in a range of diffrent meeting spaces within the workplace.
How will this impact the conferencing experience?

A BYOM approach can support a flexible video conferencing solution, whilst solving some of the most common meeting room challenges users face working with digital tools. A BYOM solution includes minimal equipment to bring teams together, and allows employees to use multiple meeting platforms or whichever platform they prefer, to host and join video meetings.

Video conferencing within the workplace in 2021 will be very different, with teams across the world being able to communicate and collaborate through different devices and platforms. BYOM systems like Barco ClickShare CX allow people to use their preferred conferencing platform from their own work device and also quickly jump from one platform to the next depending on what meeting details are included for the next virtual meeting in the calendar.

As the workforce starts to transition back to the office in 2021, more organizations will realize the need for BYOM spaces within their estate to give certain employees access to use flexible workspaces as needed, and avoid the perils of mass desktop meetings taking place at the same time in open office areas. Importantly, the BYOM experience should be looked at as part of your overall workplace transformation strategy amongst several other activity-based workspaces where technology is deployed relative to the workflow of the people using these spaces. By putting the user at the centre of the workflow, you can begin to offer flexible meeting experiences and adopt solutions that fit the needs of all your staff.