2020 will be remembered as the year in which the way that we worked together completely changed. Even though this has been the most challenging time of our generation, it has totally redefined the way alot of us work. Not just a temporary change, but permanently, for now we have seen that things can be done differently. And that a 'different way', is not as bad as we had thought. The pandemic has showed we are more adaptable than we imagined, and many of us are perfectly capable of working 'location-independent'. The urge to always commute to the office to be able to work has disappeared for many. Employees will now look for the right balance. Globally, we now see that work is more perceived as an activity, no longer as a place to go.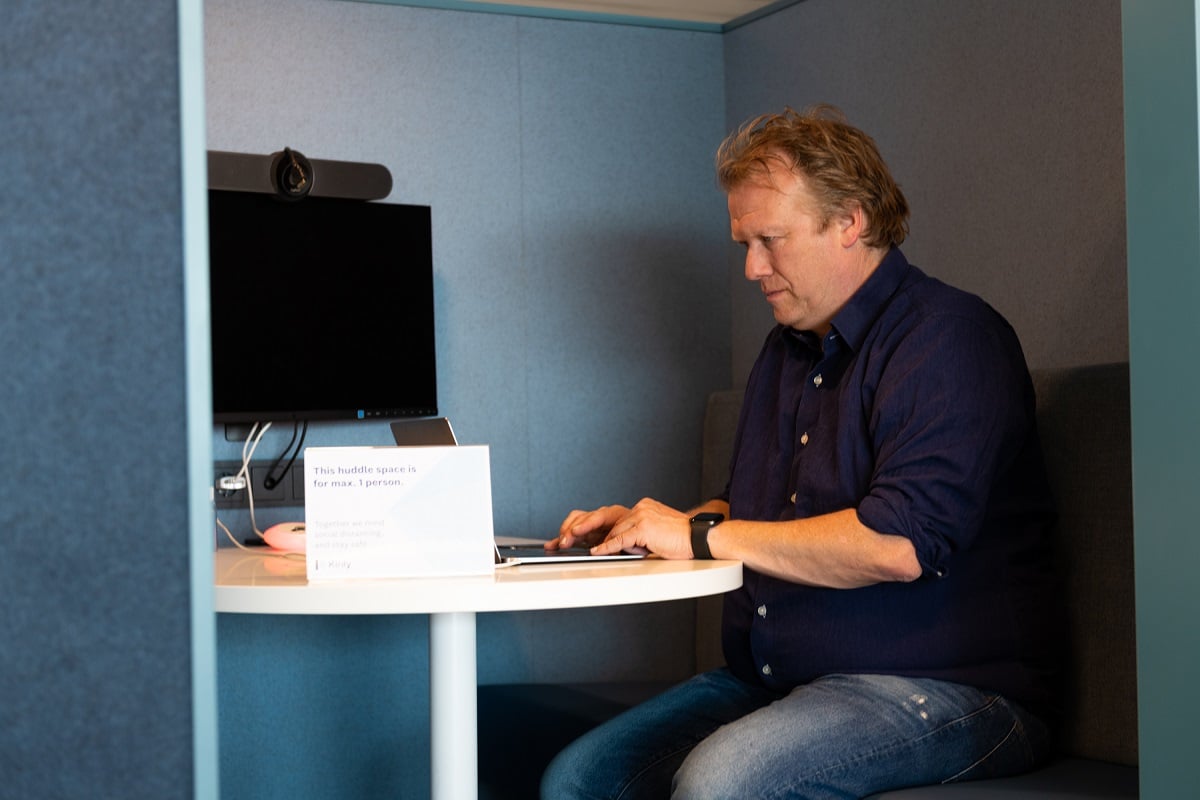 Working from home: from secondary to primary location
If we have learned anything, it is that working from home has many advantages. Of course, in the beginning everybody was looking for another way to keep in touch with colleagues, partners or customers and to work together. In business, videoconferencing and collaboration technology were already widely used. This was much less so the case in other sectors, such as education and healthcare. Now, the use of this technology has increased tremendously as it is being successfully adopted by many different sectors. Video conferencing and collaboration platforms such as Microsoft Teams and Cisco Webex have taken hold and are, making the workplace location independent. In a very short time, our home office has become the primary work location, from being previously a secondary option.
I expect that employees will maintain this 'I'll work from home unless' attitude. Therefore, even when we are allowed to move more freely again, do we still need the office as we know it today?
The role of the office changes
When you think of your own organization, the first images that pass your mind are probably images of your office building. With me as well. After all, an office is a symbol of a company: a place where employees come together and to feel connected. To be able to discuss the weekend with a colleague at the coffee machine. Conversations like these are extremely important to be able to build a relationship with your colleagues.
In addition, people come to the office for certain activities that simply run more efficiently when people are together in one room. Think of a creative brainstorming session where writing with markers or sticky notes is desired. That is why I do not believe that the office will disappear completely, but that we will use the available square meters differently.
Meeting rooms, for example, will be more focused on interacting with people outside the office location; the situation that all participants of a meeting will be physically present becomes the exception. Therefore, further integration between the physical and virtual workplace is necessary.
Components of work: virtual, physical and psychological
After all, work is not a place; it is an activity. An activity that can take place in a physical location, but also virtually. And the location where we work will be more than ever determined by a psychological component: the inner need of an employee. I know that some of our employees embrace working from home. They feel better because they no longer have to travel as often. Or they can be more productive because they are less often interrupted by colleagues. Whereas other employees clearly miss the office enormously, because they thrive better in an environment where many people come together and actively engage with one another.
By identifying the needs of your employees, your organization is better able to facilitate a working environment that meets their expectations and requirements.
Short versus long term
The optimal design of the physical work environment, that seamlessly integrates with the virtual workplace, is a dot on the horizon. For the time being, organizations will mainly focus on creating a safe working environment, where the distance of 1-2m is guaranteed. Partly for this reason, there is a difference in focus for organizations on the short and long term, whereby the physical, virtual and psychological components of work must be balanced. As far as I am concerned, going back to the "old" way of working is going backwards. Let's work together to make sure we do not miss the positive opportunities to transform the way we work that this challenging time has forced upon us.