The importance of collaboration in the work environment has never been so vital, yet creating effective collaboration can be challenging for all types of organisations. When people work together problems are solved faster, solutions are generated, and a culture of teamwork is created - but how do you create that culture?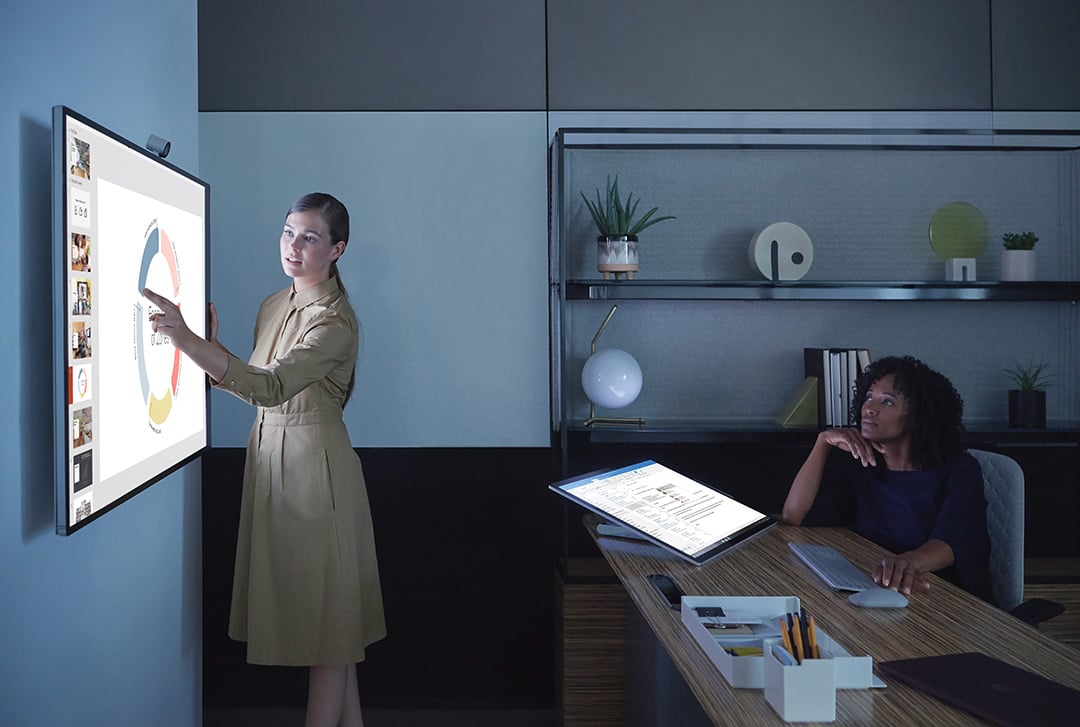 In today's business environment, the most successful companies are those that focus on a team-based, collaborative culture and that place an emphasis on creativity and productivity. So much so that a study by Forbes has found that companies who promote collaborative working are 5 times more likely to be high performing – how collaborative is your workplace?
Microsoft Surface Hub 2 – how can this boost collaboration in the workplace?
With this new culture of work emerging, moving towards a collaborative workforce can be difficult, especially in the era of digitalisation we find ourselves in. To help people collaborate better, whether in the office, at home, or around the world, a device built entirely for teams is essential. This is where the Microsoft Surface Hub 2 comes in.
In this current post-digital age, we find businesses are moving to an increasingly remote or dispersed workforce. In this environment, it is vital for organisations to be able to communicate effectively with every member of their team, without having to worry about network connections, office space and good camera quality.
But how exactly does Microsoft Surface Hub 2 impact collaboration? To make this easier for you we have outlined 4 ways that Surface Hub 2 can boost collaboration in an efficient and intuitive way:

1. Unlocks the
P
ower
of the Team
When you collaborate with the Microsoft Surface Hub 2S everyone can create. Surface Hub 2S was designed to get everyone out of their seats to connect and share ideas, regardless of their location. The sleek, agile design ensures there is usable space to create and collaborate, while the 4K rotating cameras with integrated speakers and far field mic allows everyone in the meeting to feel as though they are right in the room.

2. Perfect for any Space
Often when it comes to a large whiteboard or screen, space and flexibility to move can often prove difficult. The Surface Hub 2S, however, scales and adapts to your space. Coming in 2020, dynamic rotation means you are able to use the best orientation for your content. Not only can you decide the orientation and rotate the Surface Hub 2 to your needs, it is significantly easier to move around, letting you move it from room to room, wherever your team does their best work.

3. Go Bigger with the 85-inch Device
Make your collaborative space even bigger with Microsoft's larger version of Surface Hub 2. Microsoft has revealed that it will be launching the 85-inch version of Surface Hub 2 in 2020, with a 16:9 display creating a canvas where everyone can create. This 85-inch model is designed for businesses that are looking to enable teams to take meetings to the next level.
4. Moves Beyond Meetings
, to True Teaming
The Surface Hub 2 lets you move beyond meetings and create a truly collaborative experience which emphasises real-time teamwork. The Surface Hub 2 advances beyond its original predecessor allowing a multi-user sign in. This feature will let multiple people authenticate in the same Surface Hub 2 workspace, letting them simultaneously access documents and ideas, and merge them with their teammates – making this collaboration as natural as a meeting at a whiteboard.
Ignite your digital transformation with the right collaboration technology. Recognising the importance of collaboration and modernising your workplaces and systems creates an experience that allows your people and teams to be as productive and creative as possible.
The Surface Hub 2 is truly the future of collaboration, transforming ordinary places into modern collaborative spaces to ensure your organisation attracts and retains the next generation of talent. To discover more about Surface Hub 2S, download our Technical Resource Pack.