Avedon Capital Partners' investment in Kinly wins Deal of the Year at the 2018 ACG Holland Growth Awards

Last night ACG Holland, the Association for Corporate Growth Holland, held its third annual Growth Awards Ceremony at Strand Zuid in Amsterdam. The event recognizes the achievements and contribution of member companies and individuals who have demonstrated leadership in their field.

Nominations for the awards were submitted by the ACG Holland members and the winners were selected by a panel represented by the event sponsors, Valery Capital, Orange Clover, RSM Due Diligence, and the event organisers.
Deal of the Year Award: recognises the most impressive corporate middle market deal in the Netherlands.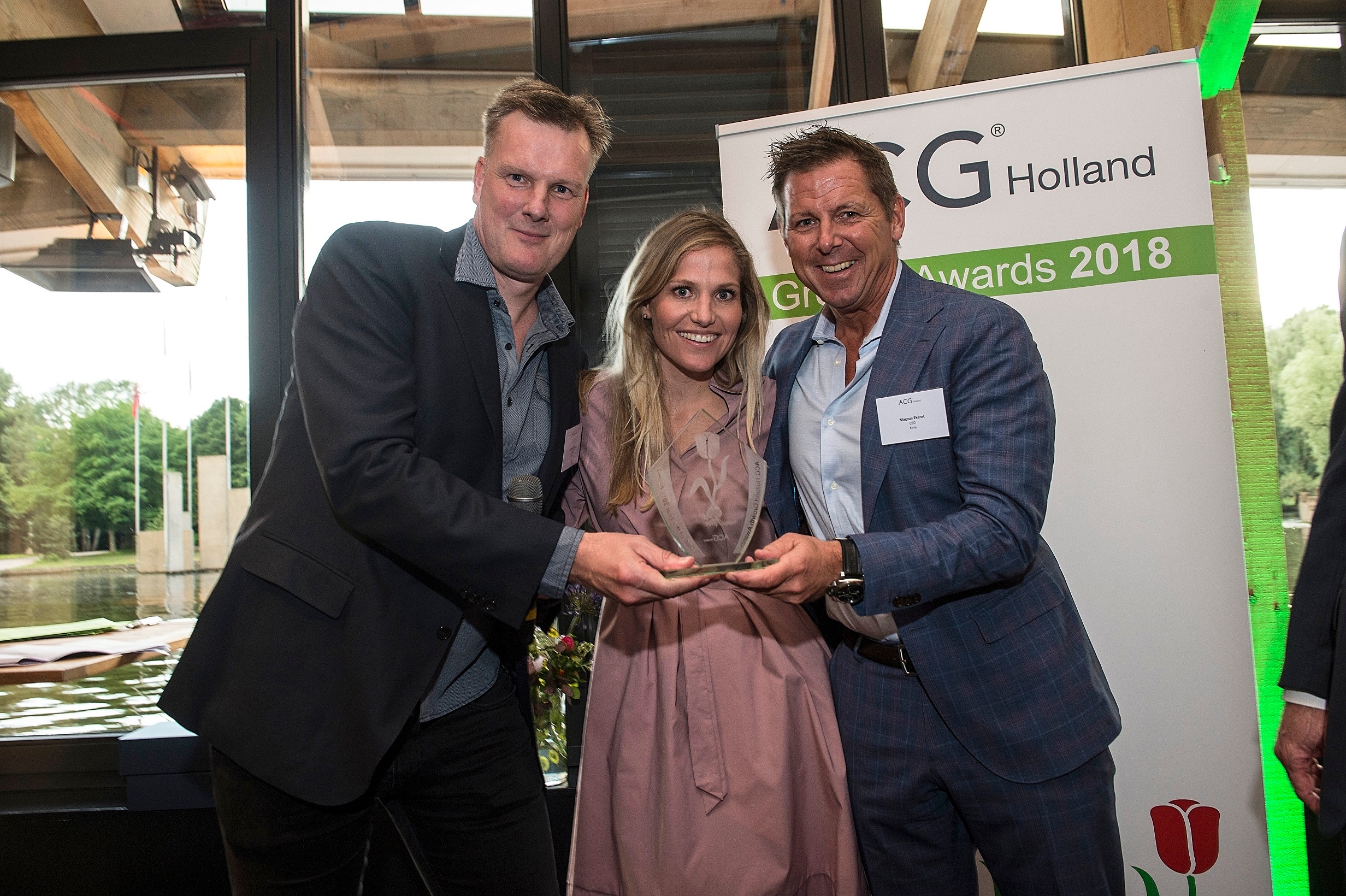 (L-R Raymond Alves, Chief Solutions Officer, Kinly, Emily Jeffries, Investment Manager, Avedon Capital Partners, Magnus Ekerot, CEO, Kinly)
Other nominees and winners of the awards were:
Best PE Exit Award: recognises the PE firm who has achieved the best exit on an M&A transaction in the Netherlands.
Waterland (Sale of Attero) - WINNER

Holland Venture (Sale of Esdec)

Bencis (Sale of Curaeos)
Best PE Entry Award: recognises the PE firm who has achieved the best entry on an M&A transaction in the Netherlands.
ABN AMRO Participaties (Merlin Technology) - WINNER

Active Capital (Lumat)

HB Capital (Hurks Group)
Best Advisor Award: recognises the adviser who has achieved significant success on M&A transactions in the Netherlands.
Leontine Koens-Betz (Accuracy) - WINNER
Danny Bosker (KPMG)
Bart Jonkman (Capitalmind)
Innovation Award: recognises the company showing exceptional creativity and talent while having a significant positive impact on their region, community or a sustainable development goal.
Connected Capital (Speakap) - WINNER
Waterland (Jibes data analytics)
ABN AMRO Participaties (Lyanthe)
ACG Holland President: Bas van Helden; "This was our third ACG Holland Awards and we were very positively surprised by the number and quality of the nominations that we received. They represent the full breadth of the Dutch mid-market and the winners are stand out examples of remarkable success and growth.

"Special for this year was that the Awards evening was also attended by participants at ACG's EuroGrowth. This brought a real international feel to the event and presented a great opportunity for us to showcase Dutch excellence with dealmakers from across Europe and North America."

"I would like to congratulate all the 2018 winners!"
About Avedon Capital Partners
Avedon Capital Partners is an investor passionate about supporting outstanding entrepreneurs and management teams of growth companies to realize their ambitions together. It is located in Amsterdam (NL) and Düsseldorf (GER). Avedon focuses on niches within four sectors: Software & Technology, Business Services, Industry & Engineering, and Consumer & Leisure. Since it was established, the team has invested in over 20 growth capital transactions and has achieved a strong track record of growth.
www.avedoncapital.com

About ACG
The Association of Corporate Growth Holland is the premier association in the Netherlands for middle market deal making professionals: private capital providers, M&A advisors, corporate executives, accountants, attorneys and other related service providers.
Founded in 1954, the Association for Corporate Growth has chapters worldwide representing 14,500 members. ACG serves 90,000 investors, executives, lenders and advisers to growing middle-market companies. ACG's mission is to drive middle-market growth.
www.acg.org/holland