The technological revolution in the last 50 years has been a big driving force behind changes in our everyday lives, as well as the way we learn, work, communicate and interact. Technology has also changed the workplace in extraordinary ways, and forever changed the ways in which employees connect, communicate and collaborate. This pace of change continues to accelerate, and nowadays we want to engage and meet in flexible and dynamic ways.
Advancements in technology is revolutionizing the way businesses all over the world conduct their meetings
According to the National Statistics Council, 37% of time spent at work is in meetings. Other data indicates there are 11 million business meetings each day. We meet to strategize, present, negotiate and collaborate. They take place at the desk, in the meeting room, across town and around the globe.
The way we meet is evolving and reflects changing attitudes towards workplace collaboration
Towards the end of the last century meetings would traditionally take place in one location, and executives would sit around a table to present and exchange information. In the last 15 years or so, global businesses deployed video conferencing and telepresence technology in international office locations to better enable internal visual communications as well as to facilitate external team collaboration.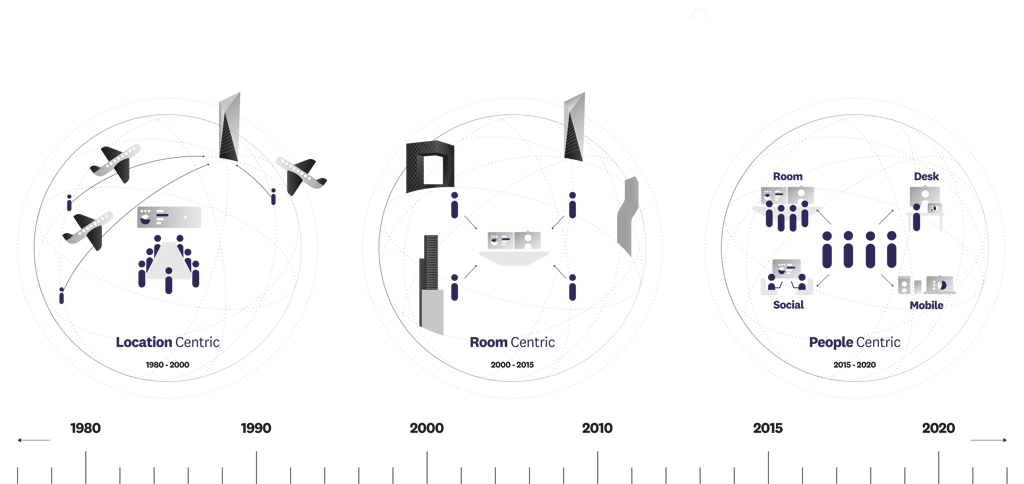 (Click to enlarge)
We have now entered a people centric collaboration era. Advancements in technology has allowed us to examine the current approaches to the way we work. Also, the ways and means in which we conduct meetings today is also changing rapidly. Meetings nowadays have become much more collaborative and no longer happen in one place. There's a notably shift away from a meeting culture built on information exchange to a culture focused on creative collaboration that empowers innovation and builds trust.
Our cloud collaboration solution, puts people at the center of collaboration and enables teams to conduct smarter, more effective meetings. From the browser to the boardroom, cloud collaboration enables a new era in visual communications. And, connecting the physical and digital workspaces can transform the way teams communicate and innovate.
Organizations are starting to encourage an open, collaborative and flexible work culture. Now is the time to embrace the evolution of the meeting!