Helping the University of Northampton transform learning and teaching earns Kinly and Barco 'Education Project of the Year' at the AV Awards 2019.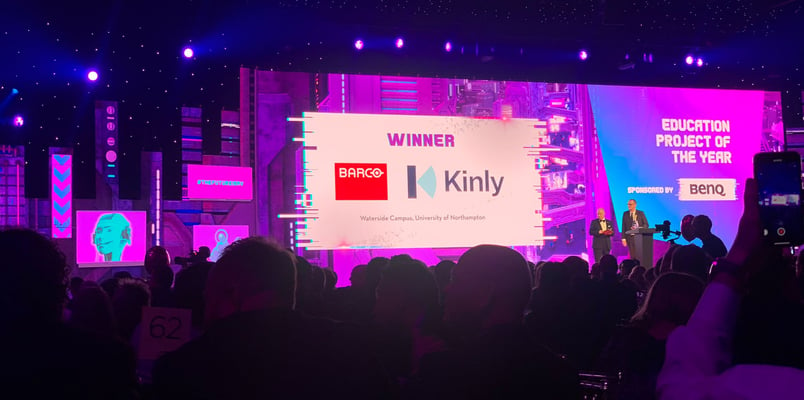 The annual AV Awards event took place on Friday 11 October 2019 at the Battersea Evolution in London with the theme of the event being 'The Future is AV'. The concept was about bringing all parts of the AV universe together to celebrate how far we have come and how excited we are about the future.
Education Project of the Year 2019 Winner: Waterside Campus, University of Northampton
The University of Northampton (UON) is one of the oldest universities in the UK, but its advanced new Waterside Campus supports the education of over 15,000 students, fully designed to adapt to 21st century teaching with a wide range of integrated and also smaller learning environments.
Six-years in the making, Northampton is now home to a university like no other in the UK. UON's revolutionary approach to teaching and learning meant that IT/AV teams were involved from the very beginning, working side-by-side with the architects on the original design before any building work had even started. The new campus has been designed to allow and encourage staff to collaborate better in different groups. More teaching now happens in smaller, personalised groups and AV technology is used to allow content to be delivered more efficiently and dynamically, creating a much more interactive learning experience - all part of a new approach called 'Active Blended Learning'.
Kinly's award entry centered on how our team put the client first above everything else to complete this multi-million pound AV integration project for UoN  on-plan, on-time and under budget. We really admired and were inspired by the universities initial brief to provide an AV digital platform that aligns to UON's 'Transforming Lives + Inspiring Change' vision. We are delighted to have played a part in helping UON create a teaching infrastructure fit for the digital age and one that supports a student-centred teaching philosophy.
Kinly and Barco Education joined forces alongside many other industry collaborators at the University of Northampton to create a campus-wide solution that enables innovative collaborative teaching and learning. Deployment of Barco's weConnect and Overture have been realized in 168 classrooms, 24 huddle spaces, 81 interactive classrooms, 35 connected classrooms, 23 collaboration rooms, and five lecture halls.
In addition, huge 5 x 5 video wall displays in both main reception and auditorium areas create an impressive welcome for students and visitors alike - displaying event information, campus news and enrolment details for prospective students via a digital signage software platform, that also provides the on campus wayfinding. The Interactive wayfinding kiosks help students and visitors orientate themselves. Touch displays in classrooms and open areas aid groups of students to share content, collaborate, ideate and work dynamically in group/team settings.
This was a complex and challenging project but the results have been truly transformational. Installation and commissioning was completed in time for the Waterside campus to welcome its first newly enrolled students on schedule in September 2018.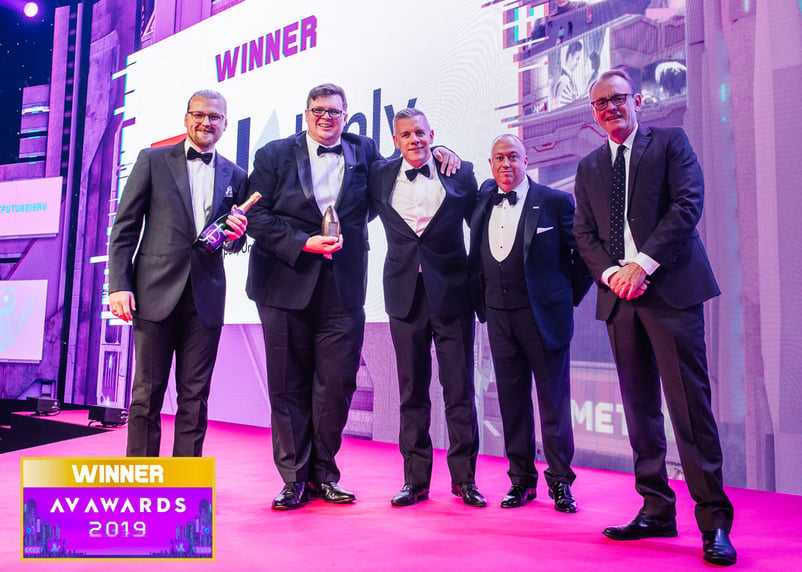 A bright future ahead
Winning at the AV Awards is a huge milestone for Kinly — we are proud to be recognized for the design and extraordinary effort that goes into all our projects but our first-ever AV Award is pretty special and comes as a boost of confidence for the entire company, and our team can be immensely proud of this achievement!
Interested to know more about this project? Watch the video below or read the full story here
Enhancing the student experience with digital technology at UON from Kinly on Vimeo.