The optimal collaboration solution has to work for you, not against you, and removing the user frustration related to technical problems in meeting environments saves time and improves performance. Poorly designed collaboration solutions can turn creative discussions and idea sessions into non-productive meetings.
The first step towards better collaboration and better utilization of internal resources across offices and countries is to assess whether your current solutions are aligned to your work processes. Many companies recognize the need for better internal and external visual communications, however its not uncommon for organizations to deploy the latest collaboration solutions and then review how their employees are going to use the technology afterwards. The most expensive meeting rooms are the ones that are not used, a known problem that often results in companies becoming reluctant to trying new solutions in the future.
At Kinly, we determine the right technology fit by evaluating user behavior and putting people and culture at the center of solution design. We assess how people use technology and help them find the right solutions best suitable for their employees and their workflows. In addition, we recognize that success starts with adoption, and provide utilization support to enhance user engagement and achieve a positive ROI.

For companies where teamwork and creativity play an important part in everyday team meetings, Microsoft Surface Hub has proven to be a great addition to their collaboration environments. The solution is intuitive, user-friendly and intelligent. So far over half of Fortune 100 companies have already deployed Surface Hubs to improve how their teams collaborate.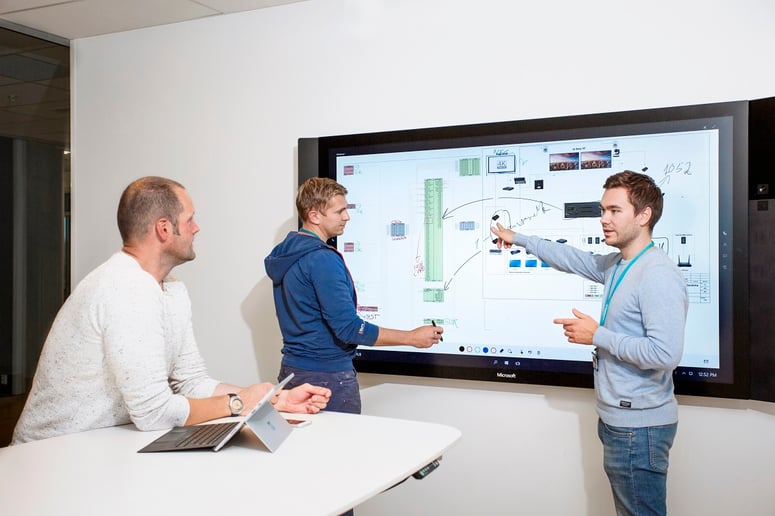 A creative solution that turns ideas into actions
Microsoft Surface Hub could be perceived as a large screen display or or simply another whiteboard solution, however the collaboration device is an advanced integrated solution with an expansive multi-touch screen, responsive inking experience and on-board Office Apps. With built-in PC, sensors, microphones, cameras, and a customized version of Windows 10, users gain access to a versatile tool that simplifies and facilitates good team collaboration and creative meetings.
Microsoft Surface Hub was built to harness the power of Windows 10, Skype for Business, Office, OneNote and Universal Windows apps. A big part of Surface Hub's success with the end-user community has been from the fact it provides a familiar interface that people are used to working with. The device makes it easy to organize interactive creative meetings with participants both locally or remote via Skype for Business. Surface Hub is particularly suited for creativity and ideation, as well as sharing content and data in team meetings.
Check out the user experiences video to get an in-depth tour of Surface Hub, or drop by one of our Solution Center's to try Microsoft Surface Hub for yourself!