Deployments of touch and interactive displays for workplace meeting spaces have been growing rapidly in recent months - and with such a large range of solutions available, spanning different price ranges, you may be confused about making the right choice for your business.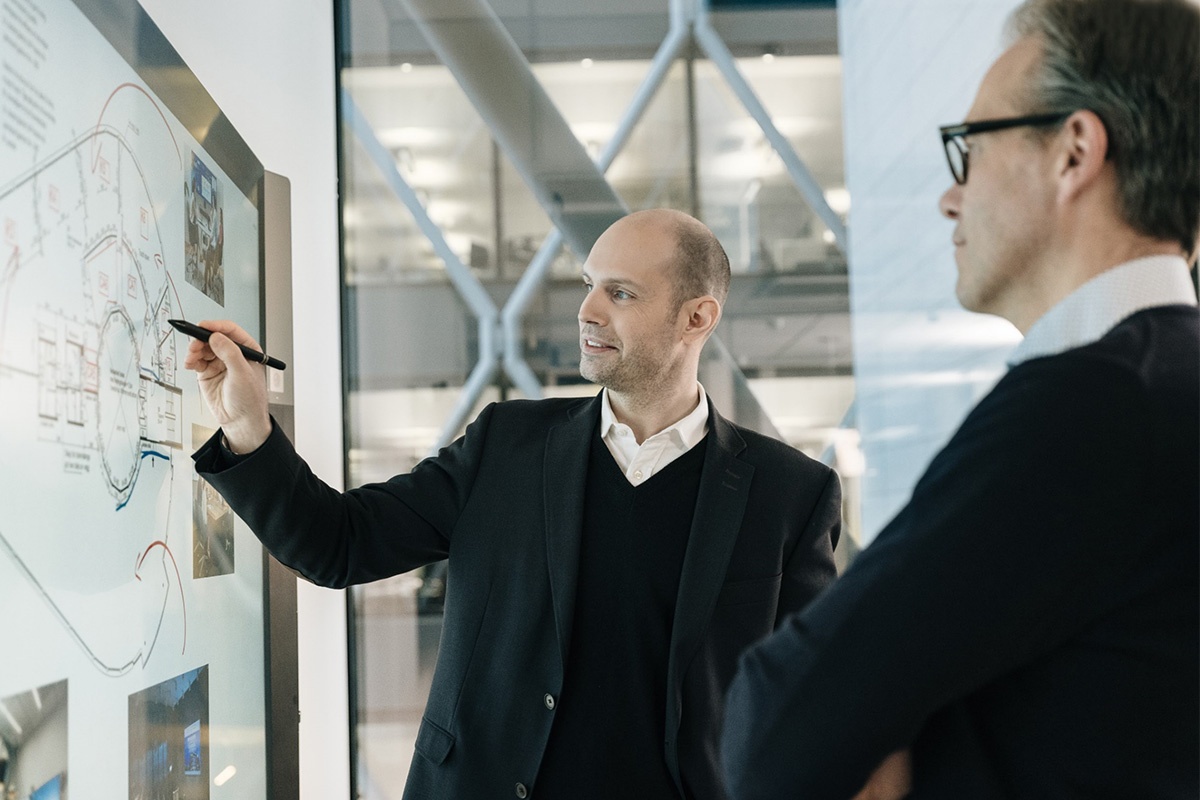 Here are some tips on what to think about to find the solution that best suits your business.
With top quality and functionality, the Microsoft Surface Hub (v1) has left a solid impression in the market and has in many ways set the standard for what a touchscreen in the meeting room can do. With v2 expected to launch in early 2019: Microsoft Surface Hub 2 will have the same solid functionality, but at a more competitive price.

If your business wishes to integrate touch screens into your meeting spaces, there are a number of exciting solutions beyond Surface Hub that may be worthwhile investigating.
Different touch screens for different purposes
Anders Bech, Collaboration Advisor at Kinly Norway, says that he always starts with two main questions when a customer wants help finding the right touch and interactive solution. The first is about the purpose. What should the equipment or solutions be used for?
"Someone may simply use just a digital whiteboard, so it's not advisable to look at more comprehensive solutions in higher price ranges. The new Samsung Flip is a good option in this case. The functionality is somewhat limited, but the price is also at a less expensive level. This is a simple digital and responsive whiteboard that you can write on. It can be connected to your PC as an in-source to retrieve documents and images to be displayed. For similar use in school and for educational purposes, SMART Boards can also be a good option."
Furthermore, Bech says that features are his next question. Here the customer has to think about what features are important for just their purpose of use.
"For some, touchscreens for small and creative meetings are the most important. For others, video and built-in applications are essential. It's common to drive Windows 10, thus accessing Office applications ".
Different platforms will naturally impact touch screen selection
In the process of selecting a touchscreen, it is also important to know which platform the customer is working on.
"Common for the largest manufacturers for touch screens is that they are closely tied to the ecosystem of the supplier. Microsoft's strength is the tight integration against Office 365, Google's Jamboard against G Suite Apps and Cisco Webex Board is the closest physical extension of Webex Teams. Each has different strengths, which often reflect the supplier's focus on interaction, although they often have many of the same features. The Cisco Webex Board focuses on high-quality video, with easy interface and high level of interaction across organizations. Microsoft Hub and Google Jamboard have their strengths in document and application interaction" says Bech.
Comprehensive solutions
With many users and large offices, most enterprises need a comprehensive solution with interactive touch screens that include video, audio, and specific operating systems. In this segment, there are several options.
"In addition to Microsoft Surface Hub and Cisco Webex Board, the NEC Infinity Board is a good option. This interactive display includes built-in camera's, speakers and plug-ins. Other options are Avocor, Dell and CTOUCH."
It is also important to reflect on how the room is designed, considering the equipment to be placed there.
"The best solutions for a smaller room are often not the best for a large conference room, and vice versa. In large rooms, users often need more microphones, extra cameras or external speakers. All these aspects need to be considered when finding the really good solutions to customer challenges, " explains Bech.
Some customers know what they are looking for and have a clear idea of what solutions they want. Others want advice and guidance from experts in the field. Here Kinly comes in as a trusted advisor - to reduce the amount of complexity involved in choosing the right technology for meeting and conference activities. We help you to try out the possibilities, because different solutions are perceived differently, depending on your needs and preferences. By testing solutions against each other you are best able to assess what is the right solution your business (with a little bit of help from us of course!).
Schedule a visit to one of our global solution centers to get hands-on with the latest touch and interactive displays on the market.