Good processes and technologies that help productivity are at the core of Kinly's business. User-friendly and apt management is increasingly important as we create the 'Office Space 3.0'.
For many of us, the workday is still different from what we were used to. The journey back from the home office hasn't been without bumps in the road, and some businesses have changed the way work is being done - the main change often being from where work is being done. Many were sceptical when it came to letting employees work from home at such a degree, but those voices have been silenced by the surveys and research telling us that we are actually just as effective and productive when we work in a hybrid arrangement. Surveys also show that many workers prefer to continue with this way of working in the future.
When employees don't necessarily go to the office to work every day, having a good overview of when they will, and the ability to adapt to that is imperative. Otherwise, one might end up with a half-full office for parts of the week, which is just as bad is down-scaling, only to find that you don't have enough workspaces or meeting rooms when you need them. Luckily, technology exists that can help us manage this and help us strike a balance.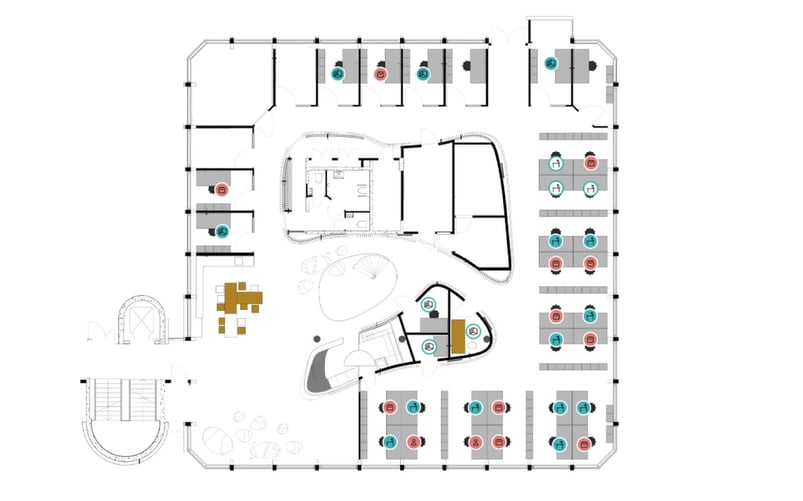 Employees and general productivity aren't the only reasons why many businesses feel that keeping a good overview is essential, many large businesses and public enterprises follow and report on ESG (Environmental Social Governance). Technology and data can make it easier to make sustainable decisions, but gathering that data poses more of a challenge.
Fortunately, great advances have been made in technology, which involves using sensor data from equipment already in place. For instance, video conference equipment, as well as other sensors - sensors for heat and air quality, motion detectors and depth laser sensors - gather information about the use of the space and other important information. While this might sound complicated, the users themselves do not notice the technology is working in the background. One example is the Norwegian company Neowit. Their system collects data from a range of different technologies and gathers it in a platform that creates a digital twin of your office. The platform enables your IT Manager, HR or Operations Manager to get a full overview. At the same time employees can view a digital image of the office, and for example see which workspaces are available and if any meeting rooms are taken etc. The system also lets employees book spaces in an easy and efficient way. Administrators on the other hand can make dashboards that track the usage of the different areas in the office, highlighting which meeting rooms are in use and when, and other important information.
As businesses adapt to the new hybrid workday, this kind of service is vital. Kinly's services are designed to scale with your needs to expand and upgrade. Smart solutions like the one Neowit provides play an important role by making sure you always have a complete overview of the usage in the office, to know where and when the demand is highest and when to take the necessary measures to ensure that the workflow continues uninterrupted.
For many businesses, systems like Neowit's help ensure an efficient use of their premises. Say for instance you have a meeting room that seats ten people, but the data shows that it's usually only booked for two or three people, the data collated would help you make an informed decision on dividing the room into two, for a more efficient use of the space. You can also see which parts of the office are popular and which parts are used less, and make improvements in terms of lighting, sound proofing and similar measures. Gathering data on how the office is used makes sense both financially, in terms of ESG, and when it comes to creating a better work environment for your employees.
Interested in finding out more? Get in touch today.