The past decade has seen dramatic technological advances, allowing the workplace to grow more connected, global, collaborative and flexible. Today, businesses operate smarter and the exponential growth of mobile devices, have led us to rethink the physical environment and how we collaborate in the workplace.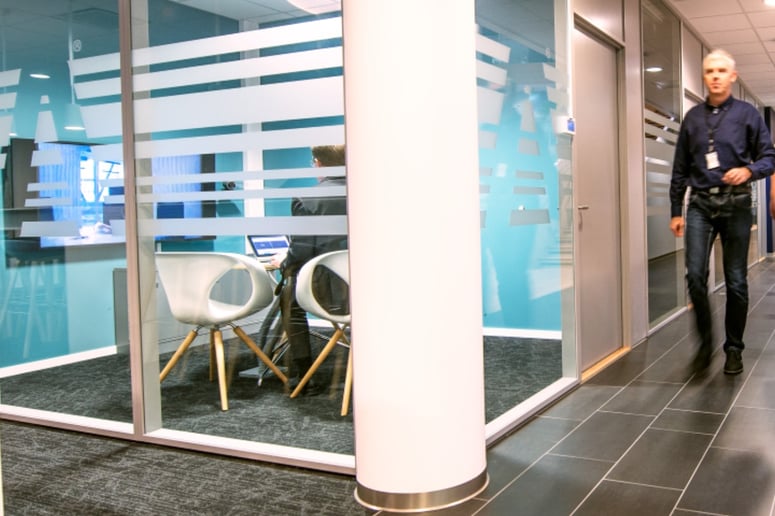 The huddle room, or huddle space, a concept that has been around for a long time, is intended to encourage visual collaboration in the workplace. Its defining characteristics are availability, immediacy and intimacy, yet it should also take into account the fact that not all participants may be physically present, hence prompting changes to the way companies are thinking about space and technology.
Why are companies trending towards huddle rooms or huddle spaces?
The company office plays a significant role in shaping its personality and culture. Video communications and audio visual equipment can influence productivity and the flexible workspace can encourage interaction, foster innovation and drive growth. Workplace design trends are shifting towards activity-based workspaces and the huddle room, equipped with AV technology, has now become part of office culture.
By deploying smaller collaborative spaces for project meetings and brainstorming sessions for groups of two to four people will not replace the need for conference rooms. Huddle rooms are needed to augment meeting rooms and allows companies to be able to fully utilise conference rooms for large meetings, presentations and group videoconferencing.
The huddle space should be designed to encourage and promote productive collaboration and teamwork. It should include basic audio visual technology to be a useful space. There are many presentation systems and display solutions available – it's important to deploy a solution that supports a variety of mobile devices. Huddle rooms are designed to operate with BYOD – it should be easy for a user to use their own laptop or tablet and easily share content as well as visually collaborate with remote participants anywhere.
For companies who are considering deploying more agile huddle spaces there are endless audio visual and video conferencing technology options – deciding the right technology fit can only be determined having evaluated user behaviour and by putting people at the centre of solution design.