The pandemic has changed the way we live and work, and while many will return to the office, things will most likely never return to what we regarded as the pre-pandemic standard of normal. Instead, video conferencing will become much more prevalent, while traveling for work will become less so. What's more, many employees will become hybrid or fully remote workers, resulting in a wealth of benefits for society and the environment alike.
The need for a plan to ensure remote working in Ireland becomes a productive and effective solution has led the Department of Enterprise, Trade and Employment (DETE) to create its National Remote Work Strategy. This will help to bring about the necessary change to policy and infrastructure that will drive economic and cultural growth in Ireland.

Looking to the future of remote working
The National Remote Work Strategy will mandate that home or remote work should become the norm for 20% of public sector employment in Ireland, and it's anticipated to be even higher in the private sector. In order to achieve this, the strategy is built on 3 pillars to ensure remote working brings a positive impact on employees' rights and mental health, public policy and enhanced infrastructure.
It's crucial to ensure that remote working can also overcome its challenges, namely in better supporting creativity group dynamics, shared ownership and protecting employees from long working hours and isolation.
Despite this, research from Fórsa and NUIG's Whitaker Institute demonstrates that a large percentage of Irish workers would like to work remotely or have the option for a hybrid approach. 94% participants in a survey expressed a desire to work remotely after the pandemic, while 67% of those would like to work remotely several times a week or month.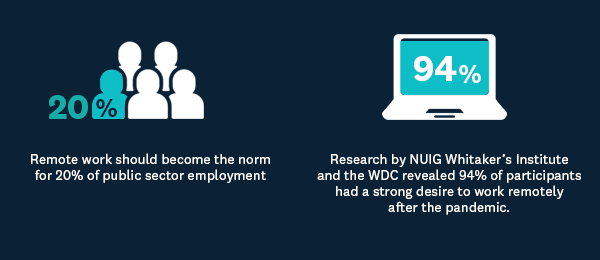 Making remote working a permanent feature
The Irish Government's National Remote Work Strategy sets out 3 key areas to ensure remote working can become a permanent fixture amongst Irish businesses. Creating a conducive environment for the adoption of remote work is key, including better rights and responsibilities for employers and employees alike.
While there is currently a legal obligation for employers to consider applications for remote or flexible working on various grounds including family status or disability, there is no legal obligation to offer such working environments. The national strategy will allow for a legal framework to support this moving forward.

The strategy will also set out a legal code of practice on the right to disconnect, in regard to emails and phone calls for those at home to ensure a healthy balance.
Similarly, there must now be a commitment to the growth of infrastructure including supporting remote working hubs, national delivery of broadband and more.
Helping Irish businesses achieve effective remote working
In partnership, Kinly and Pexip are leading global players helping businesses on their way to both effective and productive remote working. Pexip offers a high powered video meeting platform, whatever your device or location. Together with security and data privacy requirements, Pexip delivers total interoperability for your workforce.
Kinly is committed to helping organisations in Ireland with the increased demand for quality video collaboration and audio visual solutions and services that offer a seamless and reliable experience. Connecting people not only with each other but also with the right data and tools, Kinly and Pexip can help to create a culture of natural collaboration.
The Pexip platform can level the playing field for Irish organisations, removing the complexity of technology and adding real value as the nation drives towards a more sustainable way of working.
Discover the future of video meetings today with Kinly in collaboration with Pexip.