Employees, clients and collaborators are now choosing to meet from different places and spaces, using video conferencing, digital whiteboarding and virtual workspaces to stay connected and work together more effectively. Perhaps more importantly, these tools allow businesses to transform their meetings into collaborative, activity-based sessions which inspire true creativity.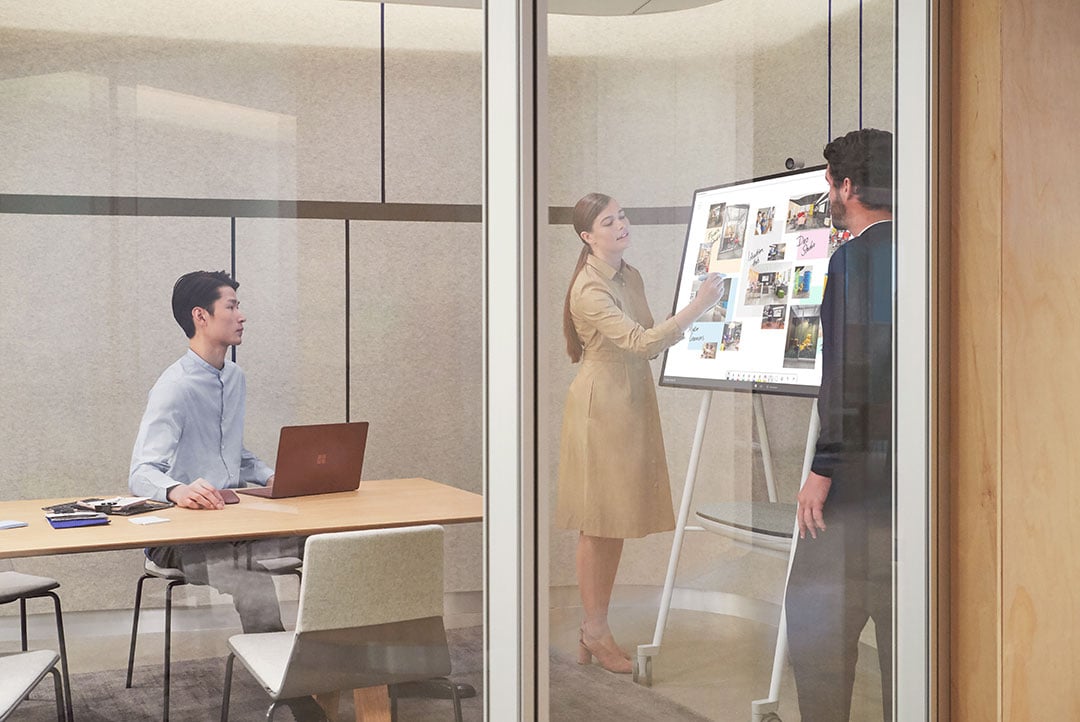 During an event in New York City on April 17th, Microsoft displayed how they're taking this collaborative technology to the next level. Presenting at the famous Steelcase offices, who they previously worked with to envision an office space of the future, the software giants revealed more detailed information about their highly-anticipated Surface Hub 2 devices.
Microsoft Surface Hub 2 Release Date
Towards the top of Microsoft's agenda for the special press event (watch here) was the matter of a firm release date. The Surface Hub 2 was originally announced last year, alongside a predicted release date of "Q2 2019". Now 12 months later, Microsoft have finally revealed that the Surface Hub 2S will be released in North America in June 2019.
The initial 2S model will comprise of a lighter, thinner 50.5-inch screen and will be priced at $9,000. Following its release in the USA, the Surface Hub 2S will soon after be rolled out to other countries — though Microsoft haven't yet offered firm dates for when to expect this.
Surface Hub 2S: Main Features
During the press event, Microsoft included a short demonstration of the Surface Hub 2S and highlighted its main features. In addition to the impressive 50-inch 4K resolution screen, which is a vast improvement on the original design, the 2S model includes a 4K camera which can be used to enhance Microsoft Teams video meetings.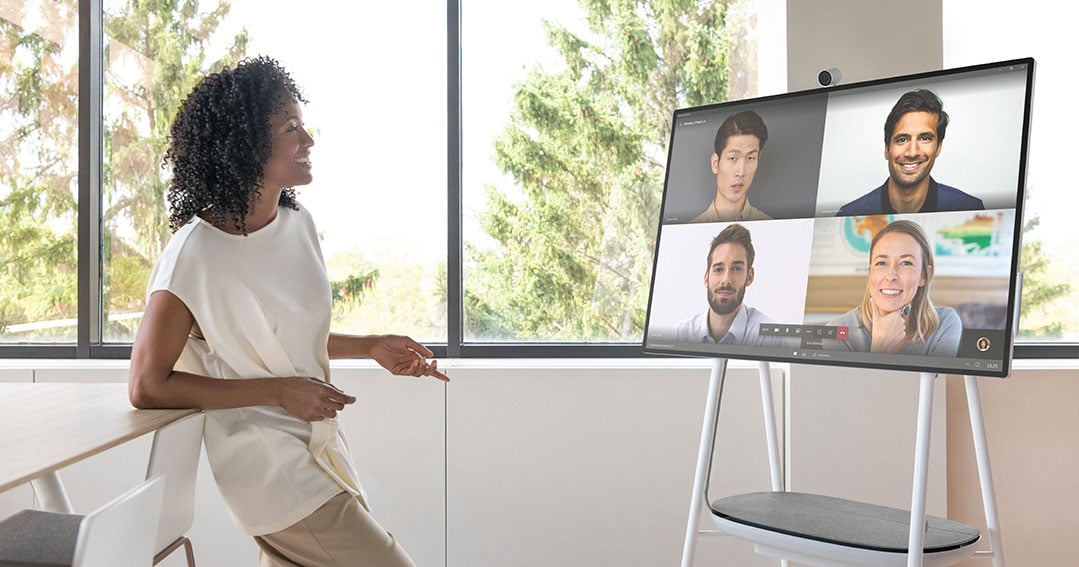 The large touchscreen boasts a 3:2 aspect ratio and an anti-glare coating, while the addition of an APC battery pack means that teams can move the new Surface Hub to a place that best suits them. This battery is available as an additional attachment, slotting seamlessly into the wheeled mobile tray (another optional extra) to help teams use the device while on the go.
After all, people no longer work in the same place, and this flexibility could truly enhance the productivity of your teams. In terms of internal specifications, the Surface Hub 2S is built around an 8th-gen Intel Core i5 processor, 8GB of RAM, Intel UHD 620 Graphics and a 128 GB hard drive, providing the kind of power and connectivity which helps teams work together seamlessly.
When compared to the original Surface Hub, the 2S is a much lighter, thinner and more mobile model. Weighing in at just 61.6 pounds, the new design features much slimmer bezels and smaller speakers, helping businesses to really make the most of their meeting spaces and ensuring the device is as user-friendly as possible.
What Next For the Surface Hub 2?
The 50.5-inch Surface Hub 2S is set for release in just over a month's time, but it certainly won't be the only new addition to the Microsoft family. During their mid-April event, Microsoft confirmed plans to release an 85-inch version of the 2S, though this won't release until sometime in 2020.
Expected a little later next year is the Surface Hub 2X, offering a significantly upgraded operating system and the dynamic tilting screen which has played such a key role in Microsoft's promotional videos. However, there's no need to panic if you're planning to invest in the upcoming 2S, since you'll be able to easily upgrade its systems through removable processor cartridges.
Either way, the new generation of Surface Hub is designed to make teams feel less remote, bringing workers closer together and making it easier for them to collaborate effectively. Seamlessly integrating with your favourite Microsoft applications and providing the perfect platform for MS Teams users, the Surface Hub 2 is undoubtedly raising the bar for team collaboration in the workplace.
Check out a recording of the full live event here >
Kinly is a Gold Partner for Surface Hub 2S in EMEA and brings unrivalled industry experience in deploying complex visual collaboration solutions and services. We offer a wide range of services including consulting, logistics, installation, configuration and training to help you effectively integrate Microsoft Surface Hub into your collaborative working environments.
Interested in knowing more? Visit www.kinly.com/microsoft-surface-hub-2