Is your business already using Microsoft Teams but you haven't yet embraced it's video capabilities? Then Microsoft Teams Rooms could be a great way to start having more effective video meetings.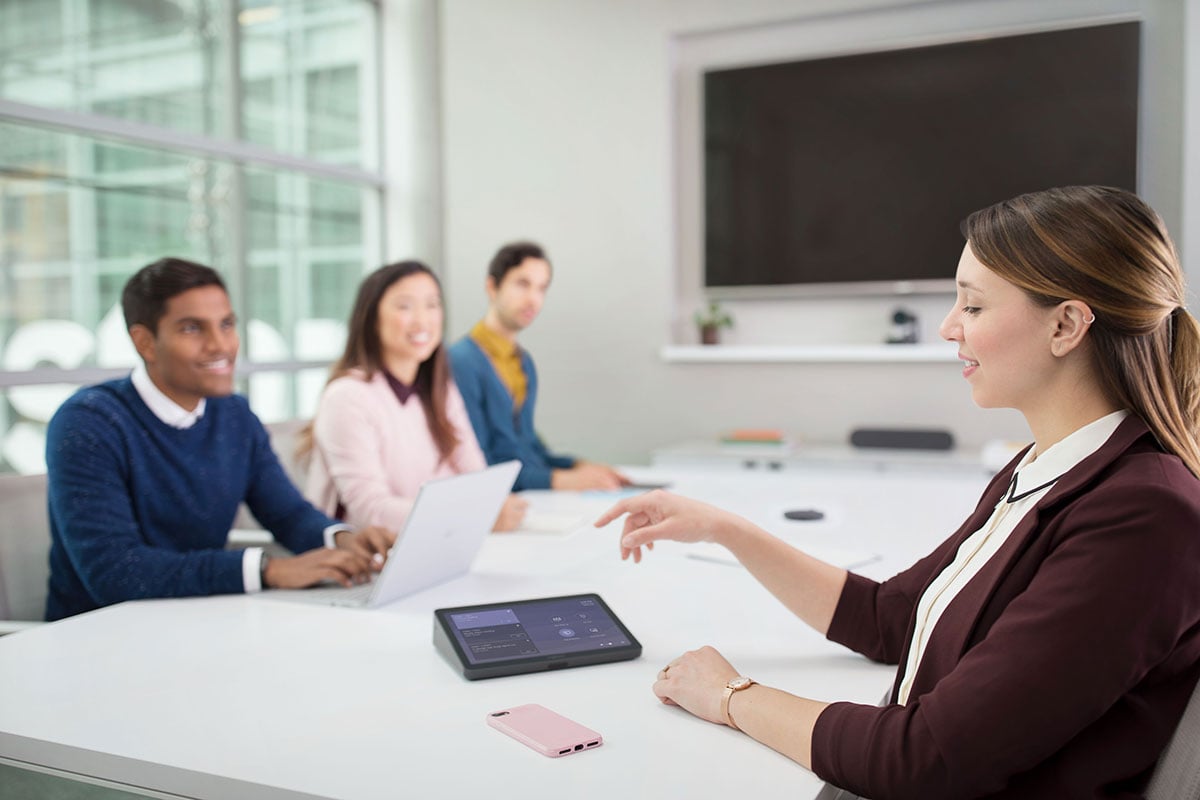 Microsoft Teams Rooms (formerly Skype Room Systems) devices are a range of products that can be combined to extend Microsoft Teams and Skype for Business meetings beyond the desktop and into meeting rooms. Many employees in global organisations already know that using Microsoft Teams can be very intuitive for most people, so why not build on that?
One-to-one, or many-to many
It's easy to work together with Microsoft Teams. Colleagues are readily available via chat, you can easily share content and work together on documents, and you can send messages to the whole team without using e-mail. In Teams, you also have the opportunity to invite your team to meetings, with or without video. If one of your meeting rooms is set up as a Microsoft Teams Room, everything will be ready so that the meeting can take place seamlessly and effectively via video, regardless of the location of other participants.
In-room requirements
There are a range of products you can use to set up a meeting room for Microsoft Teams. You'll need, at the very least, a microphone, a speaker, a VC camera and a control device with a touch panel that has been installed in your meeting room. Depending on the size of the room, this set-up can be expanded with additional microphones and speakers. If you want to set up a video meeting, you should send a meeting invite as you do normally in MS Teams or Skype for Business. In addition, you need to invite the room as a participant.
This will make it easier to connect when you are ready to start the meeting. The user interface on the touchscreen is something you'll recognise from your PC and Teams mobile app, and in only a few clicks you will be ready to start.
According to Magnus Lervåg from Kinly "If a video meeting room is correctly configured and the participants at either end are also set up correctly, a good video meeting will give the impression that everyone's sitting in the same room."
Video meetings – your 'access pass'
As so many already use MS Teams, Kinly believes it is a natural evolution to use video with Microsoft Teams Rooms. The equipment also has a relatively low investment cost and is easy to scale up. For these reasons, it could be a good solution if you haven't used video before. "As the user interface is something our employees are familiar with, Microsoft Teams Rooms is a really good 'access pass' to using video for meetings. All staff should receive training in how the equipment works, but we believe that it is easy to understand as it is based on something that they are already familiar with" says Lervåg.
Somewhat dependent on business requirements, we recommend that the equipment is set up in a meeting room for two to six people. This is the most frequently used size of room, but the systems can also be scaled up for larger boardrooms or small auditoriums.
"Start with one or two of the smaller meeting rooms you have and try to involve your employees in the process so that they become familiar with this way of working. Encourage your staff to start to set-up video meetings with other departments in your business or partners with similar facilities. This may realise savings in reduction of travel needs, and your employees will become more effective" says Lervåg.
So, if you are already using Microsoft Teams and are you interested in trying out video conferencing in your office meeting rooms… Microsoft Teams Rooms could be the answer.