The growth of Microsoft Teams and hybrid workplace considerations
As much of the world has become accustomed to working from home for the last 12 months, it has been crucial for businesses to remain agile and resilient when it comes to productivity and day-to-day operations. Video conferencing and online collaboration have quickly become the norm, with organizations of all sizes across all sectors quickly deploying new collaboration technology or building on existing technology. Thus ensuring communication channels remain open and cater for both the small minority still in the physical workplace (particularly in certain job roles and sectors) and the vast majority working remotely.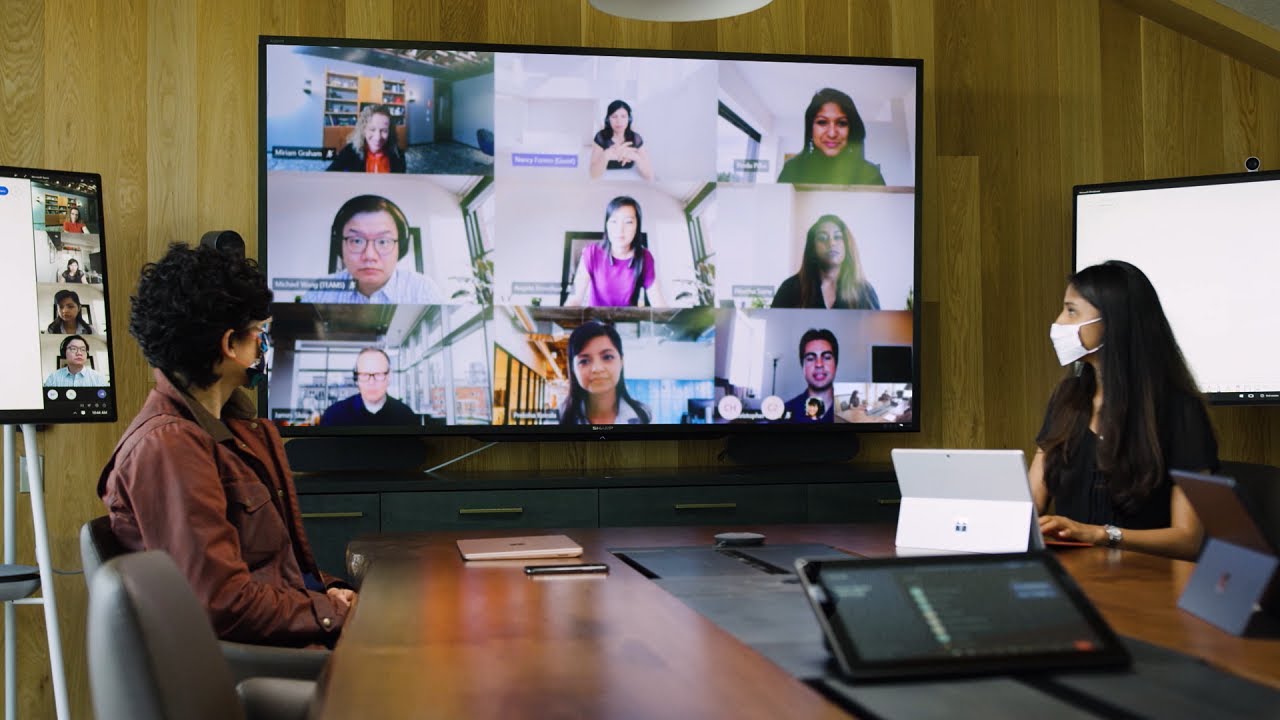 With that in mind, platforms such as Microsoft Teams have experienced huge growth as organizations accelerate adoption of the necessary tools. We take a closer look at this growth and what this means for the return to the workplace.
The rise of Microsoft Teams
Microsoft Teams had approximately 13 million users in the middle of 2019, but by November 2020 this number had risen to 115 million. The change in working style and location has forced the hand of many businesses who may have been previously reluctant to invest in video conferencing and collaboration tools, resulting in a huge uptake of organizations of all sizes using Microsoft Teams and other platforms in a way like never before. Similarly, Microsoft 365 has seen a huge rise in usage, with users around the world generating over 30 billion minutes of collaboration in a single day!
Enhance business collaboration with MS Teams
Microsoft Teams can provide a new way to work and learn, for a new type of workplace. Business communication platforms such as MS Teams can provide a meeting experience that enhances communication and facilitates better collaboration, even with employees in multiple locations.
The right tools can go further than just a transactional virtual meeting. Instead, businesses are using Microsoft Teams to help with their entire working day. Microsoft Teams is used to bring together meetings, informal chats, collaborate on files, third-party apps and business processes in one seamless place in the cloud. Together with Microsoft 365, businesses are unlocking the potential of a full suite of productivity and collaboration apps.
Returning to the traditional office space - not as we knew it
The office of the future will see more of a hybrid working environment, with employees being both remote and in the traditional office at different times. This presents a demand for collaboration and communication tools that don't just facilitate home working, but can provide the right meeting experience amongst colleagues in the office too. What we are seeing and hearing from customers and industry analysts is that offices will need to change towards high-end collaborative arenas, offering superior facilities for communication and collaboration because when staff do go to the office they will be choosing to do so because they need to collaborate in a way that they cannot remotely. Equipping activity-based working spaces with modern technology solutions is also predicted to be an even more important part of attracting the right talent, along with flexible work policies of course. Teams-enabled meeting room devices such as Microsoft Teams Rooms and Surface Hub 2S can help to avoid common audio issues that usually occur from several people joining the same call, in the same open office space. What's more, in some cases you can also utilise existing room displays and other AV peripherals to add certified Teams systems into. Microsoft Teams Rooms devices are available from a number of industry-leading brands including Logitech, Crestron, Poly and more. This means workers can continue to use existing technology that they are familiar with, making the end-user experience a seamless and hassle-free one.
Platforms such as Microsoft Teams have quickly become an integral part of many organizations day-to-day operations, as they begin to develop returning to work strategies and plans as well as facilitating remote working preferences. With an intuitive touch screen device, Microsoft Teams Rooms can provide meeting experiences and sharable content all in one place.

FastTrack Rooms for Microsoft Teams Offer
(Eligibility Criteria Applies* - Available until 30 June, 2021)

To help organizations to video-enable meeting spaces with Microsoft Teams Rooms devices, Microsoft and Kinly can help deploy two of your Microsoft Teams Rooms using a special offer. The FastTrack Rooms offer provides eligible customers* with installation services, provided by Microsoft Gold Partner Kinly, for up to two Microsoft Teams Rooms at no charge. (*Must have minimum of 150 qualifying Office 365 licenses)