Kinly to bring people together with video meetings on any device at a global scale, with increased focus on the EMEA and North America regions for their Pexip offering.
Amsterdam/Oslo – Oct 3rd , 2019 – Today Pexip, a leading provider of enterprise video conferencing and collaboration technology, and Kinly, a leading specialist in implementing video collaboration solutions, announced they have signed a global, long term partnership agreement that enables Kinly to resell Pexip products and services to enterprise customers worldwide.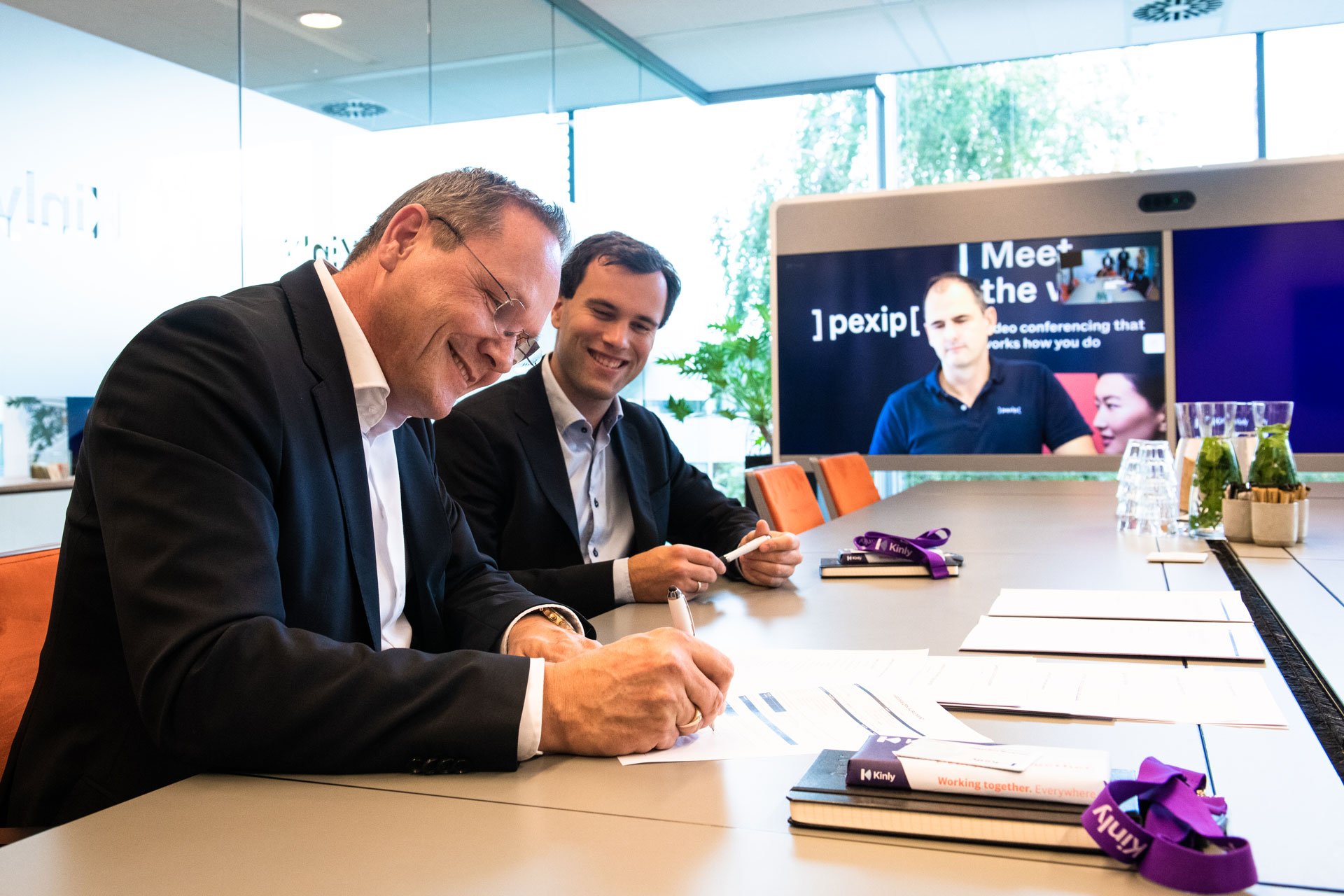 The two companies already experience strong growth in the video meetings space, with many large organizations already using Pexip solutions worldwide. Expanding the partnership, Kinly as a global player will ensure better availability of their Pexip offering across all their regions. Kinly will bring the Pexip service to market as "Pexip by Kinly", with added customer value and services for meetings and rooms. For customers that require highly customizable solutions, Kinly will resell and provide Pexip Infinity on-premise, as well as the Kinly Cloud Room solutions, developed on top of the Pexip Infinity engine.
The extended partnership aims to provide a secure and reliable experience for larger international organizations that rely on video for collaboration in their workplace environment.
"Kinly is very pleased to further strengthen our strategic partnership with Pexip. Together we deliver best-in-class visual collaboration solutions," says Jean-Paul Lemmens, Global Procurement Director at Kinly. "Our Clients in the Nordics and UK have trusted us with an outstanding uptake of both the Pexip Service and Pexip Infinity. We now look forward to working with Pexip in our EMEA and US markets, to also provide our clients in these regions with the same seamless video meetings."
"We are excited to see Kinly working with Pexip in a growing number of regions and markets. Kinly's Gold certification status is a testimony to their ability to deliver innovative solutions to global customers," said Øystein Hem, CFO at Pexip. "Kinly's strength lies in their ability to bring additional value to our products, allowing customers to get the most from their investments."
About Kinly
Kinly provide secure and flexible visual collaboration solutions that make it easier to work closer together.
At Kinly, we think working together is the most exciting thing in the world. Our vision is to engage people in a world of possibilities. Our brand promise is Working together. Everywhere. Our role is to provide a seamless and reliable experience that enables people to work together, in different spaces and places.
Kinly's solutions and services include video conferencing, audio visual integration and unified communications and collaboration.
The company today serves corporate and public customers in over 120 countries from established office locations throughout EMEA, the USA and APAC.
For further information, visit kinly.com
About Pexip
Pexip simplifies complex video conferencing to empower teams to meet, regardless of location or technology. Our scalable, cloud-native platform enables high-quality video meetings, interoperability with Microsoft and Google solutions, and video system device registration. Customers can deploy Pexip on their own privately-hosted servers, in their cloud of choice (Azure, Google Cloud, or AWS), as a hybrid, or as a service. With a diverse set of APIs, Pexip can be customized to fit customers' unique needs.
For further information, visit pexip.com