Webinar insights from Kinly + Pexip on video meetings in the hybrid era
As widely reported, COVID-19 has forced organisations into speeding up their digital transformation projects in order to accommodate the abrupt change in working habits created by the pandemic. It's clear that the more traditional ways of working have now given way to a rise in video conferencing and a significant shift to a hybrid workplace. While some businesses have been used to this model through flexible working approaches, for many organisations this is a newer concept.
Despite the mass adoption of video conferencing due to the ongoing pandemic, it's important to remember that using this technology can still be confusing for people across organisations. The partnership between Kinly and Pexip aims to solve this confusion, offering enterprise video confertechnology that's built around people and with support and training where it's needed.
With that in mind, together Kinly and Pexip UK&I recently hosted a series of webinars (available on-demand) to offer insights into supporting hybrid working and how to integrate quality video collaboration tools into your organisation.
Returning to the 'new normal'
The workplace now refers to more than just a traditional office space, instead including home environments and alternative spaces such as coffee shops and co-working spaces. We are already discovering a wealth of organisations who are realising the need for high-end collaborative arenas that allow for productive working, regardless of the location of colleagues.
Understanding how to connect the physical and virtual workplace can be a challenge for organisations, but together Kinly and Pexip hope to empower users whilst removing the confusion of adopting new technology. Helping organisations to rethink their meeting space, it's important that it's easy to join meetings and collaborate on platforms that everyone is confident with. Typically users will choose their own app or platform, so it's crucial that organisations find a way to bring everyone together.

To learn about creating the right hybrid work environment moving forward, watch our Video Meetings in the Hybrid Workplace webinar, with speakers from both Kinly and Pexip offering their thoughts.
Video conferencing in the UK&I public sector
The public sector has had to speed up its digital transformation, with the likes of the NHS, schools and courts simply not being able to function during the pandemic without updated systems and video conferencing.
In the first couple of months of the pandemic taking hold, the acceleration of new services being deployed within the likes of government sectors was staggering. It's been said that two years' worth of transformation happened in two months, speeding up the technological changes and making improvements that may have otherwise not happened until later down the line.
One of the most important considerations with the public sector is ensuring that investments in legacy conferencing systems are protected, and instead providing a solution that allows workers to integrate their existing systems with ease. Technology can still be very confusing, and so it's important that simplification is a priority.
Kinly are able to support a number of public sector organisations, with a dedicated, UK-based public sector team to deliver solutions without compromising on compliance, quality or user workflow. In partnership with Pexip, the two can deliver secure video platforms that modernise and simplify the adoption of hybrid working across the public sector, with a variety of products to achieve it.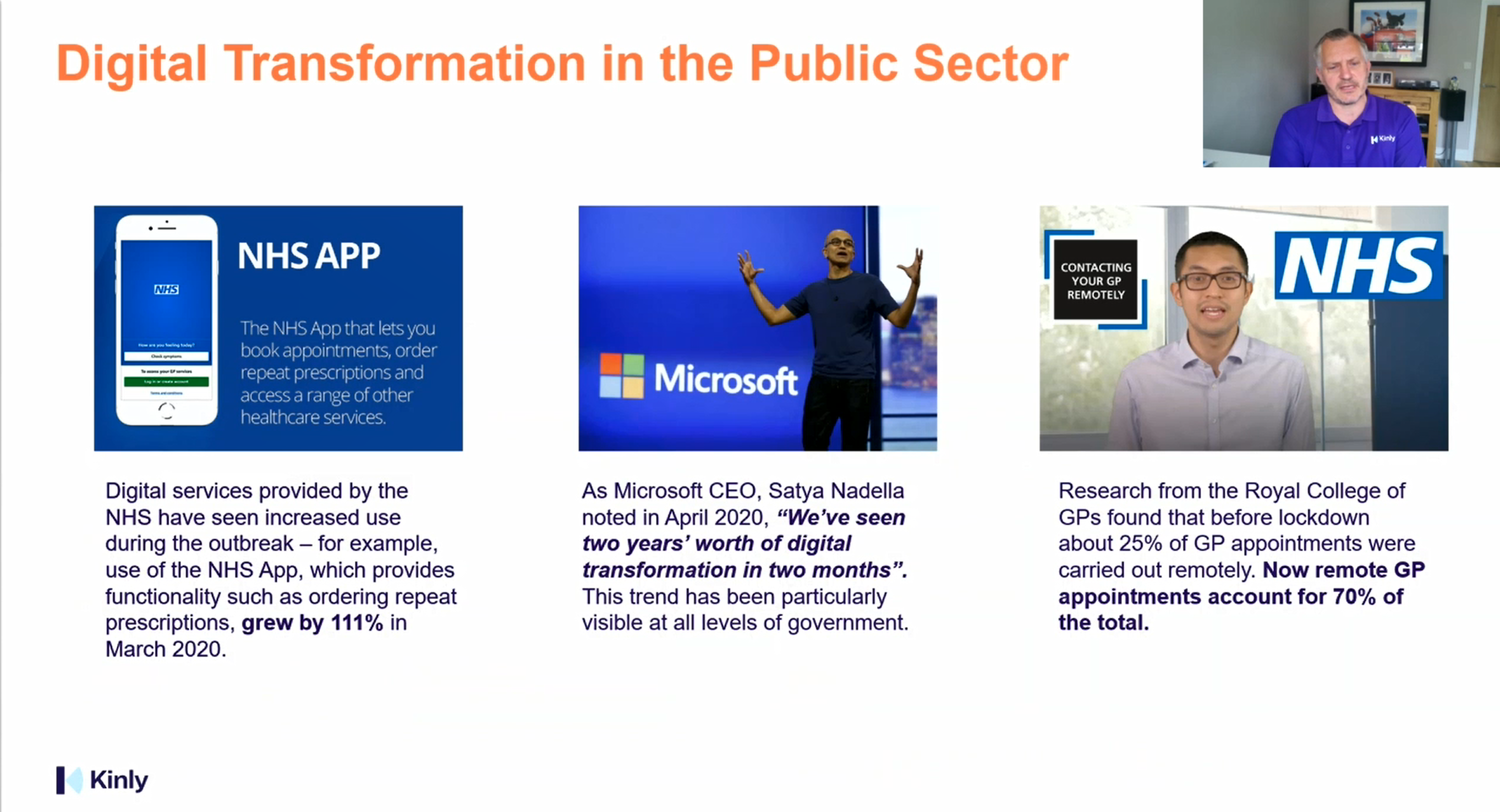 To find out more, watch our Video Conferencing in the Public Sector webinar on-demand.
Understanding the video conferencing market in Ireland
Across the world, organisations have seen huge change in the way they work during the past year. In 2018 Kinly saw a great surge of activity in the Republic of Ireland, which has put the company in a great position to support customers and clients in that region. Since then, Kinly has recently invested in an Operations Centre located in Dublin, so as to allow for better support across Ireland.
The Irish market is facing very similar challenges to everywhere else, including a surge in video collaboration tools but also a rise in video fatigue. It's important that companies are able to find a way to combat this, especially with a hybrid workforce set to be the new normal moving forward. With that in mind, Kinly and Pexip have come together to deliver a seamless, reliable experience that connects people not only with each other, but with the right data and tools to build a culture of effective collaboration.

Together, Kinly and Pexip are able to level the playing field for Irish organisations and bring a people-first approach, removing the complexity of technology and adding value. You can discover more about this approach and the products to help you do it by watching our Global Video Conferencing Specialists in Ireland webinar.