Microsoft recently announced the next generation of Skype Room Systems (previously named 'Project Rigel') which are expected to revolutionise the meeting room experience using Skype for Business. Skype Room Systems offer organisations the ability to deliver an improved Skype video experience in meeting rooms at a cost-effective price. But what are Skype Room Systems? And why do they hold so much promise for the meeting room experience?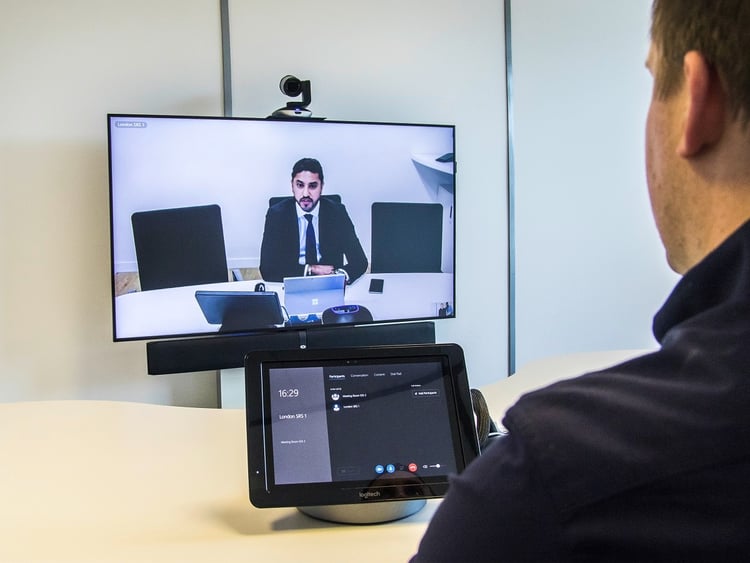 What are Skype Room Systems?
Essentially, a Skype Room System is a packaged solution that includes a Skype for Business compatible endpoint and a touch panel with an intuitive graphical user-interface (GUI). These Skype Room Systems are designed to enhance enterprise collaboration and enables users to join by a single touch, before entering a multi-party high-definition (HD) and content sharing experience. So whether you're at home connecting from your device, or you're in the office meeting room, everyone feels a part of the meeting.
Microsoft have developed a number of solutions with strategic partners, namely, Crestron, Polycom and Logitech. But what makes them different?
Logitech SmartDock
The Logitech SmartDock offers users a more affordable collaboration solution, making Skype Room Systems accessible for small to medium enterprises that want to benefit from more productive meetings. Meeting participants will enjoy the familiar Skype for Business interface, and IT administrators will appreciate the easily deployed and managed Windows® 10 Skype meeting app. The SmartDock is available to pre-order, and is expected to ship from November 2016.
Crestron Next Generation Skype Room System
Crestron's Microsoft Surface Dock delivers a powerfully impressive solution to enhance the meeting room experience. Crestron have developed this system to seamlessly integrate with Microsoft Surface Pro 4 touch screen with Crestron control. Not only that, but this system also has a consistent UI, network management through Crestron Fusion Cloud, and full connectivity features. The Surface Dock is expected to ship early 2017.
Polycom Group Video Solutions
Polycom have also developed a number of solutions for facilitating Skype for Business in the meeting room. From intuitive UI's to full unified communications solutions, their range is ideal for use with Polycom video conferencing endpoints. Their new MSR Series, brings the familiar Skype for Business experience into the conference room. The Polycom MSR Series of solutions is due to be released in 2017.
What makes Skype Room Systems an ideal solution for enterprise collaboration?
Many organisations are likely to have a mixed unified communications and collaboration (UC&C) environment, including Cisco, Polycom and Microsoft technology. Skype Room Systems are an attractive proposition as they leverage an organisations' Microsoft investment, provide a familiar and consistent GUI, can be deployed with existing audio visual equipment and can also interoperate with existing video conferencing systems.
Microsoft recently showcased a preview of Skype for Business and Polycom RealConnect Service for Office365 which enabled users from non-native video conference systems to join the meeting. This functionality won't become available until 2017, however Kinly already offer a range of interoperability solutions (virtual and appliance, on-premise and cloud) that enables integration of Skype Room Systems with existing video collaboration environments.
Kinly have created a number of standardised meeting room solutions incorporating Skype Room Systems. We know from experience the common meeting problems that can arise, so we are able to design and deploy packaged solutions that incorporate the various elements that are essential for a consistent end-user experience.
Discover more about Skype Rooms Systems in the video below...