Skype Room Systems simplify the S4B meeting room experience
Updated: 21 November 2018 | Originally Posted: October 2016
Back in 2016, Microsoft announced the launch of Skype Room Systems (v1) which were introduced to simplify the meeting room experience using Skype for Business. Skype Room Systems offer organisations the ability to deliver an improved Skype/Teams video experience in meeting rooms at a cost-effective price. But what are Skype Room Systems? What are the options? And what do you need to consider before deploying?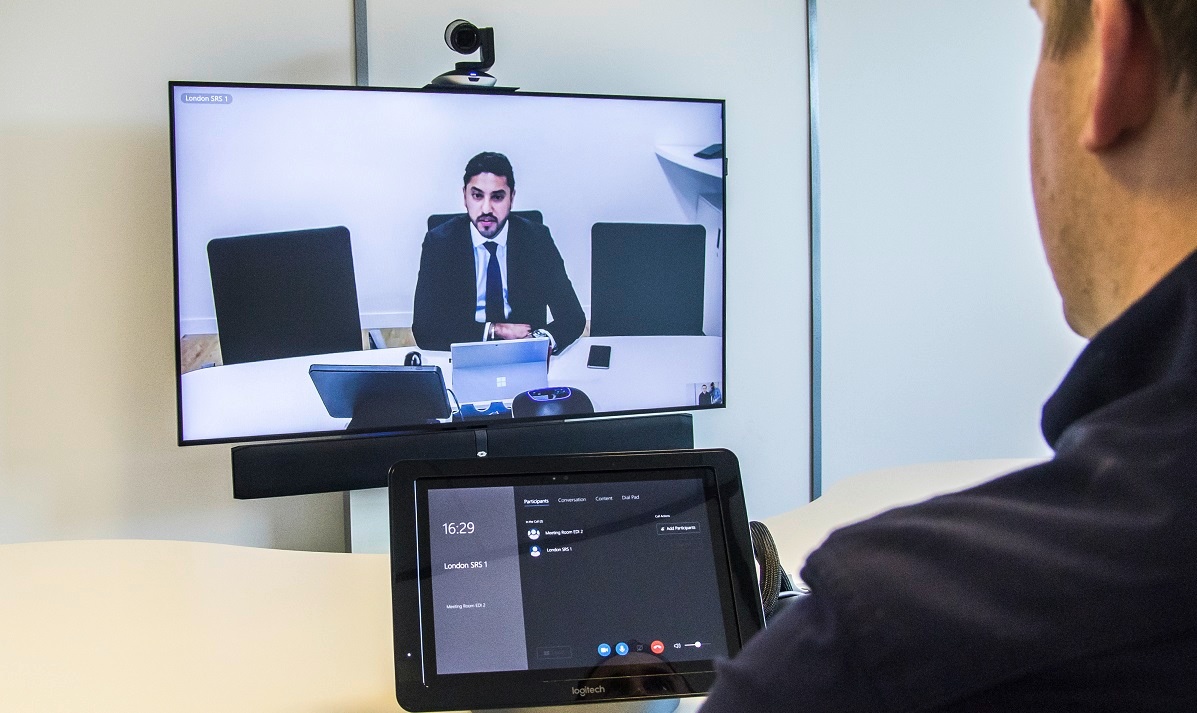 What are Skype Room Systems?
Essentially, a Skype Room System (SRS) is a packaged solution that includes a Skype for Business/Microsoft Teams compatible endpoint and a touch panel with an intuitive graphical user-interface (GUI). Skype Room Systems are designed to enhance enterprise collaboration and enables users to join from meeting rooms by a single touch, before entering a multi-party high-definition (HD) and content sharing experience.
What SRS options are available?
Microsoft have developed a number of SRS (v2) solutions with strategic partners, namely, Logitech, Lenovo, Crestron, Polycom, and HP. But what makes them different?
Logitech SmartDock
The first SRS system to the market, Logitech SmartDock offered users a more affordable collaboration solution, making Skype Room Systems accessible for small to medium enterprises that want to benefit from more productive meetings. Meeting participants will enjoy the familiar Skype for Business interface, and IT administrators will appreciate the easily deployed and managed Windows® 10 Skype meeting app.
Lenovo ThinkSmart Hub 500
The Smart Hub 500 is an all-in-one device, with a 360-degree rotatable 11.6-inch display with an antiglare, anti-smudge finish. The Hub 500 also has integrated audio; Dolby Premium Audio speaker output and 360 degree Microphone array. Windows 10 IoT Enterprise provides intelligent enterprise-grade protection, with the locked down Skype Room Systems Universal application.
Crestron SR
Crestron's SR delivers a powerfully impressive solution to enhance the meeting room experience. Crestron have developed this system to seamlessly integrate with Microsoft Surface Pro touch screen with Crestron control. Not only that, but this system also has a consistent UI, network management through Crestron Fusion Cloud, and full connectivity features.
Polycom MSR
Polycom have developed a number of solutions for Office365. From intuitive UI's to full unified communications solutions, their range is ideal for use with Polycom video conferencing endpoints. Their MSR Series, brings the familiar Skype for Business experience into the conference room.
HP Elite Slice for Meeting Rooms G2
The Elite Slice for Meeting Rooms G2 with Skype Room Systems comes with a 12.3-inch FHD touchscreen, a Core i3-7100T or Core i5-7500T, 8GB RAM, and up to 256GB of internal storage. It has 90dBa audio, a far-field voice microphone that can capture audio from five meters in any direction, HP Noise Cancellation, and has a wireless display module so you can connect without any cables. The bright tri-colored light ring lets everyone in the room know the status of the call.
What do you need to consider to make an SRS deployment successful?
Kinly have deployed a large number of meeting rooms incorporating Skype Room Systems for enterprise clients globally. We know from experience the common problems that can arise, so we are able to design and deploy solutions that incorporate the various elements that are essential for a consistent end-user experience.
Our tips:
Assess the meeting room types where the Skype Room Systems are to be deployed. This will help determine which devices and peripherals are best suited to the size and type of your meeting rooms.
Check the environmental pre-requisites carefully. This will cover what needs to be done in Active Directory, Azure AD, Exchange, Skype for Business, SCCM, OMS etc
Assess the network. This will determine if your network meets the bandwidth, latency and quality of service requirements to make the SRS deployment a success.
Plan how you will support, monitor and maintain the Skype Room systems and peripherals to ensure maximum uptime for the business and ease of management to keep ongoing ownership cost low.
Our team of Microsoft experts can provide an in-depth introduction, with demonstrations, to the latest Skype for Business meeting solutions in a dedicated technology workshop at one of our many global Solution Centre's.