Succeeding as a Woman in Tech is about willpower, self-motivation and taking risks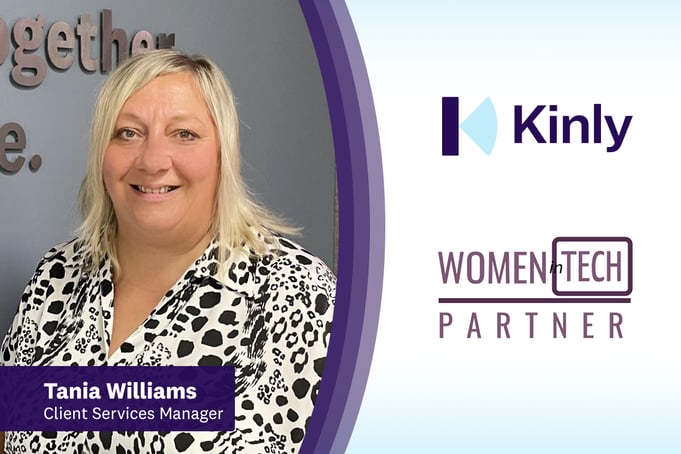 This post continues our series of blogs celebrate Kinly's new partnership with Women in Tech, in which we talk to a number of our female employees about their experiences in the technology sector and what advice they'd offer to others.
Today, we meet with Tania Williams, Global Client Services Manager at Kinly, to find out how her love of fixing things — and her 'can do' attitude — sparked a high-flying career in the technology industry.
What made you choose a career in technology?
I've always been technically minded, even from an early age. I used to fix my push bike…then my motorbike…then my car. I was the one everyone called on to set up TVs and video recorders. I could always find my way around any technical challenge — perfect for a career in tech.
How did your career in tech begin?
I began my career as a Mechanical Aircraft Engineer at Stansted Airport. Then I became a Technical Draftsman designing Partitioning and CNC programs using CAD technologies. A change in direction took me to Pitney Bowes — an American technology company known for its mailing equipment and services. This is where I started my 27-year career as a remote Diagnostic Technician and Field Engineer, before working my way up to a Service Operations Manager responsible for 160 engineers and five Service Managers.
Do you think there is a lack of women in the IT and tech sector?
Yes! Diversity and gender balance are critically important to innovation. The lack of advancement of women technologists is staggering. Did you know, for example, that the representation of women technologists declines by 50% from entry, to mid, to senior and executive levels? To advance women technologists into positions of leadership, companies must invest time, research, and develop strategies to bring about positive outcomes.
What would help to encourage more women to study technology-related courses?
We need to build a gender-balanced internship program for technical positions. We also need to fund and create initiatives around the world (and advocate for a wider technology education plan) to encourage a bigger pipeline of technical women for the future. We also need more ambassadors representing not just Kinly — but all companies — to work even closer with our partners at Women in Tech.
Are there barriers when it comes to women getting into tech?
Yes. But we can resolve this. And it starts with recruitment. Companies need to expand their avenues of recruitment to reach a greater number — and greater diversity — of female technical candidates. But I also think that commitment needs to come from the top. I would like to see executives and managers held accountable for reaching diversity goals and targets.
What advice would you give to women at the start of their careers?
Don't underestimate your capabilities. Others will regard you the same way you regard yourself. If you don't value yourself, others will undervalue you as well. Value yourself highly, and others will follow. Be more confident in your abilities and ask for more. Your willpower is one of the few things in life you can control. When doubts slip in, don't get bogged down. Motivate yourself to keep going! Take risks. Don't fear failure.