Education is vital to attracting more women into tech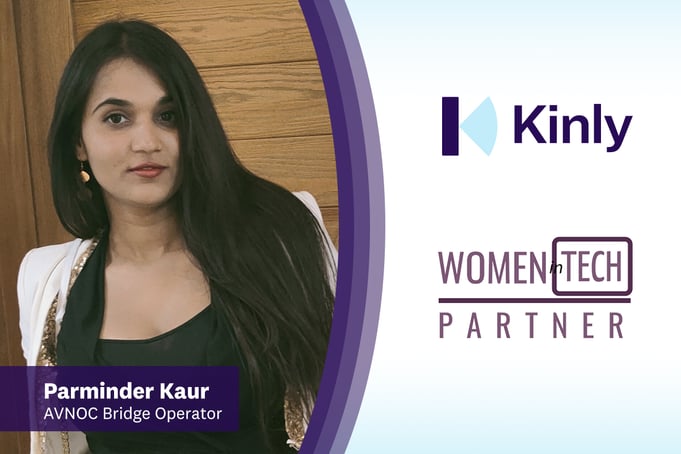 This blog post continues our series of articles celebrating Kinly's new partnership with Women in Tech, in which we talk to our female employees about their experiences in the technology sector and what advice they'd offer to others.
Today, we meet with Parminder Kaur, AVNOC Bridge Operator at Kinly, to find out what drew her to the tech sector and what advice she would give women at the start of their careers.
What does your job involve?
I'm an AVNOC Bridge Operator at Kinly. My role revolves around audio-visual (AV) multimedia support and troubleshooting.
What made you choose a career in technology?
That's easy. I have a passion for innovation and problem-solving. Working in technology — especially in an area that brings people and technology together — allows me to do both. And a career in tech also feeds my thirst for constant learning and professional development.
Do you think there is a lack of women in the IT and tech sector?
Yes. Definitely. We need more women in tech. I would go further. I believe it's a problem because there is an outdated stereotype that a career in IT or technology is primarily for men. To me, this stems from historical gender imbalances in the industry — and society in general — that associate certain fields, including technology, with masculinity. But I would also add that attitudes are changing, and it's important to recognise that this stereotype is outdated and does not reflect the reality of the industry today.
Are there barriers when it comes to women getting into tech?
Yes. Despite all the progress made, women are still underrepresented in our industry. As a result, it means there are fewer role models and mentors, which makes it harder for women to even consider themselves working in tech. The lack of role models succeeding in technology can be discouraging and contribute to a sense of isolation.
How could we encourage more women to start a career in tech?
For me, it starts with education and early exposure to the subjects that form the foundation for a career in tech.
It also means encouraging any interest in technology whether it's on the curriculum or not. But education is only part of the solution. As I've said before, women also need role models and a network of mentors to help them develop their careers.
Having the right support systems in place is crucial for personal development. And, of course, all this must be done in a landscape of equal opportunities for all.
What advice would you give to women at the start of their careers?
I have three pieces of advice:
Be confident in your abilities: Believe in yourself and your capabilities. Recognise your strengths. Don't be afraid to highlight them! Embrace challenges as opportunities for growth and learning.
Set clear goals: Define your career goals and create a plan to achieve them. Having an unobstructed vision of what you want to accomplish will help you stay focused and motivated.
And finally, seek out mentors and role models: Look for mentors and role models who can provide guidance, support, and advice based on their experiences. Having someone to turn to for advice and perspective can be invaluable as you navigate your career.