Back at a press event in New York City in April 2019, the first unveiling of the Surface Hub 2S in the much bigger format (85" to be precise) got alot of us excited and we've been waiting in anticipation on it's official launch ever since! As of January 2021, it's now available for pre-order ahead of shipping from Q1 onwards.*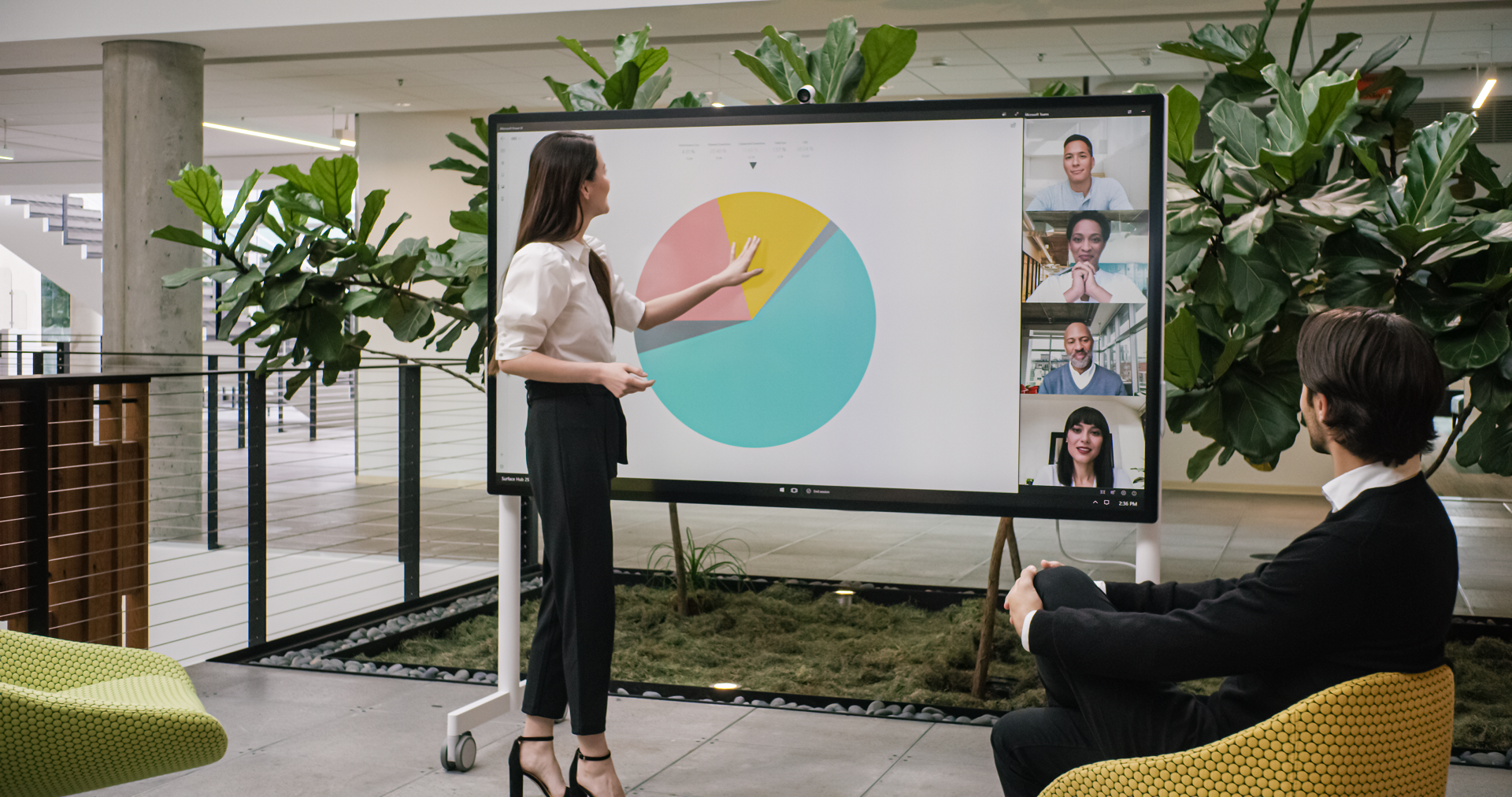 Designed to facilitate spaces that require a much larger screen, the Microsoft Surface Hub 2S 85" delivers collaboration on a massive scale. State-of-the-art hardware with Microsoft 365 productivity, the Surface Hub 2S can help you to achieve teamwork without boundaries. The new 85" version is ideal for deploying in larger conference rooms, board rooms or even more expansive huddle spaces and classroom/teaching settings.

Make remote meetings feel less remote

Today's modern workplace is constantly evolving, especially in the midst of an ongoing global pandemic. Workforces are more remote than ever, with an increased demand for flexible solutions and tools that create a seamless experience when meeting colleagues. What's more, with the likelihood of hybrid work environments becoming the norm when transitioning back to the office, it's key that the right technology is there to make communication and teamwork easy. Bridge the gap between those who are in the office and those who are still remote, with a powerful meeting platform offering vibrant, life-sized video via Microsoft Teams.

The larger screen of the 85" Microsoft Surface Hub S2 can also facilitate social distancing for those back in the workplace, allowing peers to stay 2 metres apart while still working together.

Beyond the workplace

The Microsoft Surface Hub 2S in 85" isn't just an ideal solution for the workplace. It can also become part of the digital transformation for schools and higher education institutions, in a world where students and professionals alike have had to find new ways to access resources and to deliver the curriculum.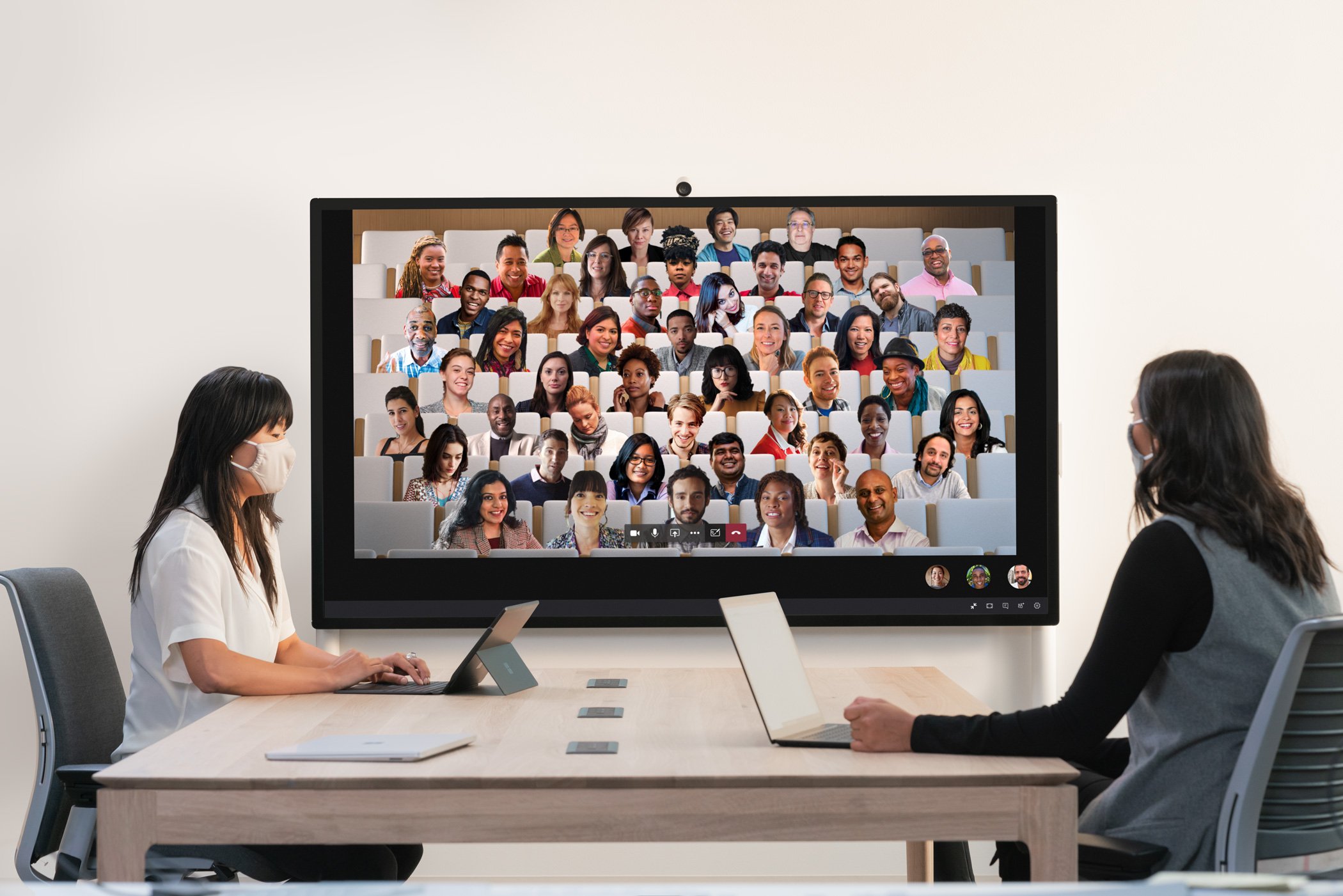 By replacing the likes of traditional projectors and whiteboards with an integrated collaborative solution such as the Surface Hub 2S, the education sector can benefit from a shared learning experience like no other.

Join and communicate seamlessly

The Surface Hub 2S 85" is pre-loaded with the Office and 365 apps you need, with the ability to add more if necessary. Integration with existing and new A/V systems is possible, including Microsoft Teams Rooms systems.

Designed so that you can simply walk up to the device and begin using it as a shareable device, you have the ability to join meetings instantly. With a choice of mount solutions, you can deliver flexibility and reconfigurability to suit your space. From a wall mounted solution that is ADA-compliant, you can also choose from a floor supported wall mount and a mobile stand for use throughout various spaces in your workplace.

Camera, microphone and speaker capabilities can be expanded with certified compatible accessories, giving you the opportunity to get the most out of your meeting experience. 45% smaller bezels, 20% thinner display and 30% lighter than its predecessor, the Surface Hub 2S 85" has arrived to bring you collaboration on a huge scale.

For a deep dive watch the Microsoft Mechanics video below.

*On 11th January 2021, Microsoft announced that the Surface Hub 2S 85 will begin shipping to business and education customers broadly in select markets later this month.