Previously a notion adopted by a minority of organisations but now accelerated by necessity, hybrid working is here to stay. In fact, hybrid workflows are shaping the future of the working landscape, impacting employee attraction, retention, expectations and more.
Research shows that less commuting, cost savings and the prioritisation of health are the main reasons employees now favour a hybrid approach to work. With companies failing to embrace and evolve in line with hybrid workflows they risk losing their staff to businesses implementing more effective strategies.
Our free eGuide pools the findings of industry-leading reports into a centralised location, allowing you to zero in on the additional driving factors behind employees' preference for hybrid working. Learn how to embrace change, inspire your employees and improve business performance by redesigning your workspace to capitalise on advancements in hybrid workflows.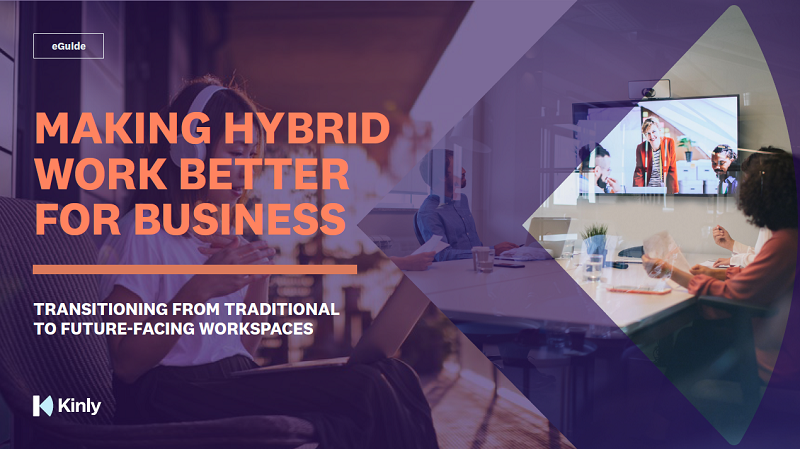 Five reasons to download our free eGuide:
1. Start redesigning your physical workspace
While hybrid is now the working method of choice, the physical workspace is not obsolete – far from it. However, traditional offices are not equipped to support the transition to hybrid and can even inhibit the process. The eGuide studies the factors behind this and explains how you can redesign your office by effectively integrating solutions that make it somewhere employees want to be, as opposed to have to be.
2. Uncover the main challenges faced by IT leadership teams
From the absence of a defined vision and lack of resources through to improper integration and security concerns, IT teams face a myriad of challenges when tasked with implementing hybrid workflows. The eGuide identifies these obstacles and explores how to overcome them - before they impact your business.
3. Learn the importance of a people-centric approach
The temptation to invest heavily in the latest technology can often prove strong for businesses, however best practice shows that one-size-fits-all solutions rarely work. Discover why first assessing the needs of your teams and taking into account your pre-existing workflows before integrating new technology is key to future-proofing your strategy.
4. See how hybrid work can help meet your CSR goals
Shifting to a hybrid model does not only improve business performance and employee satisfaction, it also comes with significant environmental and health benefits – chief among them a reduced business and personal carbon footprint. Download the eGuide to learn how a well-implemented hybrid working strategy can help your business to realise its CSR goals.
5. Build your criteria for selecting the right technology advisor
Deciding to make the transition to hybrid working is a great first step, but that doesn't mean the job is done. The eGuide will help you to understand why partnering with an independent advisor with a proven ability to roll out hybrid workflows at scale is crucial to achieving the peace of mind that your strategy is geared for long-term success.
Start redefining your workplace today. Download our free eGuide here.