Kinly, Europe's
number one visual communications and collaboration specialist, has been recognised as
the
t
op 3
firm
in
SCN's Top 50 System Integrators of 2020
.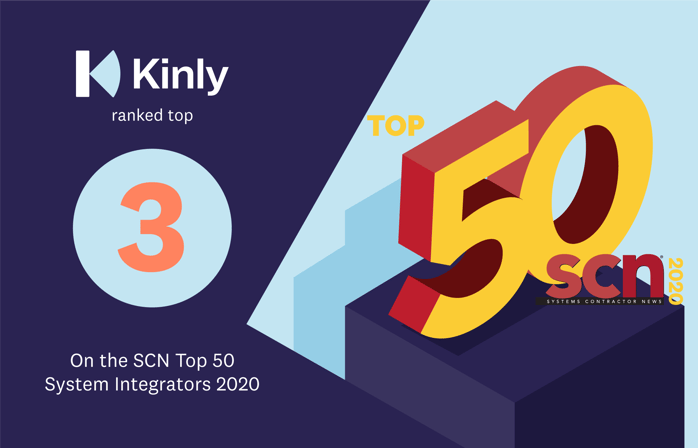 The news comes a few days after the announcement that Kinly has completed the acquisition of AVMI. The growth and combination of the two businesses has established Kinly as a leading global provider of collaboration services.
Robbert Bakker, CEO of Kinly comments: "We are delighted and proud to step up to the Top 3 position of SCN's Top 50 list, but most of all grateful for our clients' trust around the world, taking us to this position.
Amidst the pandemic, we have been able to complete a major acquisition by utilizing our own technology. More importantly, the dramatic Digital Transformation taking place has driven the demand for our solutions and services.
Being able to meet, share, discuss, and truly work together in the new hybrid workplace is imperative for businesses and the public sector alike. Kinly will continue to drive innovation in this field with offerings like our Smart Monitoring enabled Support and Managed Services as well as our Room-as-a-Service offering. Enabling the end-users and unburdening IT and Facilities with a subscription model puts a smile on the CFO's face in testing times".
The SCN report looks at the top 50 integration firms across the globe to provide readers with a better sense of the financial state of the industry. This year, due to the impact of COVID-19, integration firms were not required to give a specific annual revenue, rather a three-year average.
To read the full report click here.