Businesses across the world are discovering the benefits of a hybrid office environment, with workforces set to favour a balance of in-office and remote working. With the anticipation of companies needing the right devices and technology to facilitate this hybrid working trend, Logitech has launched a new set of Rally Family products to suit video conferencing rooms of all sizes.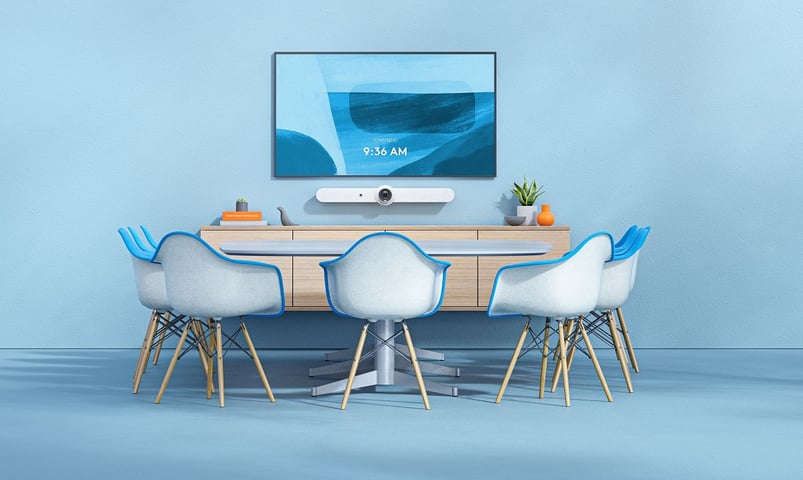 The launch of the Logitech Rally Bar, Rally Bar Mini and RoomMate has come at a perfect time for those looking to upgrade their video and audio quality for small, mid-sized and large conferencing rooms.
Logitech Rally Bar & Rally Bar Mini for hybrid workspaces
The Logitech Rally Bar is designed for mid-sized conferencing rooms, with the option to expand up to 3 additional microphone pads where necessary. The Rally Bar Mini, coming in spring 2021, is suited for smaller rooms with up to 2 expansion microphone pads.
Both the Logitech Rally Bar and Rally Bar Mini have a number of crucial features to improve the meeting room experience, with resolution up to 4K. Both devices have beamforming microphones to focus on the active talker, with the ability to adapt to keep the camera on the action. Solving common audio issues, the Rally Bar devices tune out unwanted noise and allow you to hear and be heard at the same time thanks to full duplex.
The Logitech Rally Bar and Rally Bar Mini can deliver lossless optical zoom, with an AI Viewfinder for a consistent room view and people count.
Designed to work with Microsoft Teams and Zoom among others, the system includes built-in support to allow supported applications to run directly on the device, with no computer or laptop needed. Alternatively, connect via USB to virtually any PC or Mac with no additional software.
RoomMate computing appliance
Logitech RoomMate is designed to cover much larger rooms, making it easy to deploy Zoom Rooms appliances, Microsoft Teams Rooms on Android and others with the Logitech Tap device - a touch controller for video meetings. RoomMate is a purpose-built computing appliance, and can be deployed together with Logitech Rally Plus to accommodate rooms with up to 46 seats. Delivering all the power you need for HD video conferencing, RoomMate can facilitate rooms with just one or even two displays.
Partnership with Pexip
Together with the launch of new video conferencing devices, Logitech has formed a partnership with Pexip to deliver video conferencing solutions for a variety of meeting rooms. Pexip will natively integrate with Logitech's new portfolio, delivering a consistent experience for every user in any location.
Pexip Room software will be available on Logitech Rally Bar, Rally Bar Mini and RoomMate, including One Touch Join for Pexip Meetings.
Today's business landscape demands high-quality, interoperable solutions that can be deployed at scale, particularly within a hybrid workplace. The partnership between Pexip and Logitech has allowed for collaboration barriers to be broken down, so everyone can meet, even those on different platforms.