Help your people return to the office with 'plug-and-play' video meetings
In years gone by, companies have previously had to choose between high quality audio and video solutions that were typically expensive or complex, or personal webcams that were of a lower quality with the inability to include more than one individual. Even before the pandemic, this situation was quickly changing and now there are a growing abundance of solutions that can deliver a quality meeting experience.
As the majority of organisations are now prioritising the need for premium video collaboration solutions to enable hybrid meetings, there are certain features that can help to create a natural, immersive meeting for all participants and promote a hybrid working approach. Today's technology gives us the chance to combine video, audio and AI for outstanding results in video conferencing and teamwork.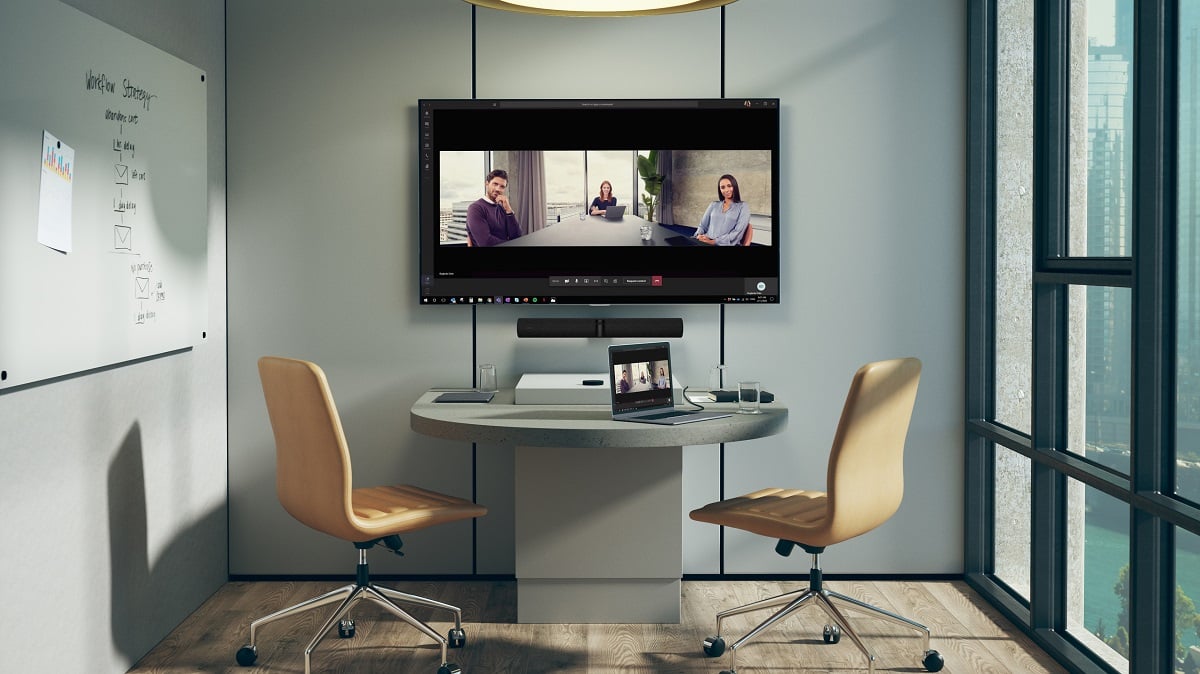 Plug-and-play connectivity for video meetings
Plug-and-play connectivity allows you to experience high-end video and audio with any device, so users can connect their own laptop with ease. This means anyone can deliver engaging video no matter where they are, with fast set-up and maximum ease of use. This can play a major role in the adoption of new technology, giving employees the chance to use devices they are already familiar with.
The BYOD trend of recent years is still a popular IT policy within businesses, with many workers believing tools from their non-working life help them to be more productive. BYOD can promote a greater choice in device type, offers flexibility and can increase workforce mobility, allowing employees to work on smartphones, tablets or laptops as they see fit.
Plug-and-play means that anyone can connect their device and begin a productive meeting with colleagues both in the office and at home.
Video meetings powered by AI
There has been a huge leap in technology to begin incorporating AI to streamline experiences further. Integrating AI with audio, video and data in real-time can create a responsive meeting that brings value to its participants.
Video conferencing devices from Jabra include the world's first video bar of its kind, creating an intelligent meeting that keeps track of who's in the meeting, where the action is happening and who's talking. The Jabra PanaCast 50 takes the role of a virtual director, adjusting the video stream depending on what's happening in the room, as if you were all together.

Safe working
Despite general guidance on the pandemic beginning to ease, it's still important for businesses to take precautions in keeping employees safe. Reinvent meetings by being able to keep social distancing in place where necessary, without compromising on the video conferencing experience. Wide field of views are now a convenient feature to ensure everyone remains in the picture.
Considerations like this can make it easy to connect with colleagues, but it also allows other sectors to benefit too such as healthcare and education.
Data security
The adoption of video conferencing solutions can come with its challenges, and for many organisations data security will be a big priority. Minimising the risk of security breaches with staff in multiple locations is key, in some cases by users' connecting via their own corporate device it can help with that - as well as smaller but equally important features like lens covers for added privacy.
Discover the Jabra PanaCast series with Kinly today and start delivering engaging meetings with Jabra PanaCast 50, the first new-normal-ready intelligent video bar.